The Alibaba Group Holding Ltd. (NYSE: BABA) stock price crossed the $100 threshold for the first time today (Tuesday) after Chairman Jack Ma expressed interest in partnering with Apple Inc. (Nasdaq: AAPL) and its new Apple Pay service.
The comments came at the Wall Street Journal's 2014 Global Technology Conference Monday.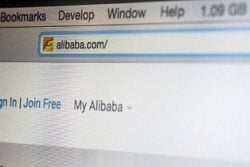 Ma said both sides would have to be interested in the "marriage." Later in the day, Apple's Chief Executive Tim Cook said he'll be meeting with Ma at the end of the week.
The news sent BABA stock to an all-time high of $100.67 this afternoon. The BABA stock price has now climbed 18% in the last 11 trading sessions. It had closed at a low of $84.95 on Oct. 14.
At today's high, BABA is up 48% from its offer price of $68.
For Apple, the partnership will help the company through some of Apple Pay's early speed bumps. Big-name retailers like Wal-Mart Stores Inc. (NYSE: WMT) and Rite Aid Corp. (NYSE: RAD) have rejected the service due to the lack of customer data they can pull from customers compared to credit cards.
Alibaba is well positioned in the mobile payments market. Its site Alipay is similar to PayPal, and has more than 300 million active users.
Alibaba is also one of the world's largest e-commerce companies with a market cap of $246 billion. Amazon.com Inc. (Nasdaq: AMZN) and eBay Inc. (Nasdaq: EBAY) have a market cap of just $198 billion, combined.
For Alibaba, the partnership would bring the company further into the U.S. market. According to Cook, the iPhone payment service had 1 million sign-ups in its first 72 hours. He also said more credit cards are associated with Apple Pay than with all other similar "tap-to-pay" services combined.
And the U.S. mobile payments market is growing rapidly. With the help of Apple, $100 a share for BABA could be just the start...