This week's four new IPOs should raise a combined $955 million, a sign that the IPO market has regained some of the momentum lost last week.
According to Renaissance Capital, last week's three initial public offerings raised just $163 million combined. Last week also saw four companies postpone their IPOs. Another four withdrew them entirely.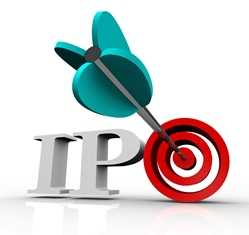 On Monday, another six companies set terms for public offerings. They operate in a variety of industries, including healthcare, energy, and technology.
The Dow Jones Industrial Average has climbed more than 3% in the last seven trading sessions, after dropping 5% in the previous month. It's a sign of regained market confidence that more companies are holding and filing for IPOs.
Here's a look at this week's new IPOs, plus the best play for investors.
This Week's Four New IPOs
New IPOs, No. 1: Shell Midstream Partners LP (NYSE: SHLX) is the largest IPO this week at roughly $750 million. SHLX is a limited partnership that owns, operates, develops, and acquires oil pipelines and other midstream assets. The company was originally formed by Royal Dutch Shell Plc. (NYSE ADR: RDS.A). SHLX will offer 37.5 million shares at a range of $19 to $21. The company reported revenue of $80 million in the six months ending June 30. If SHLX raises $750 million, it will have a market valuation of $2.8 billion. SHLX stock will trade on the New York Stock Exchange starting Wednesday, Oct. 29.
Shell Midstream will be the largest MLP to hold an IPO in 2014. SHLX stock has the most potential among this week's upcoming IPOs (even while oil prices remain low.) The company has four pipelines located in Texas, Louisiana, Mississippi, and one along the East Coast. Through the first two quarters of 2014, the company's revenue grew 47%. SHLX also has the strong reputation of Royal Dutch Shell behind it.
Money Morning Members: Continue reading for the rest of this week's new IPOs. For those new to Money Morning, sign up to continue – it's completely free…