Good morning!  Futures indicate the stock market today will open just a notch above yesterday's close, despite a rally in Europe. The markets are patiently waiting for an announcement after the close of the Fed Open Market Committee's two-day meeting. After the recent market slip – down 6.8% in less than one month – the big question is: "Will the Fed extend QE3?"
The most important number to watch today – besides the Dow – is the Federal Reserve's interest rate on fed funds, which will likely remain unchanged at a range of 0% to 0.25%. This afternoon, the U.S. central bank is expected to formally announce an end to its bond-purchasing program, effectively ending round three of quantitative easing. Today's Fed announcement, expected at 2 p.m., will also provide guidance on when the central bank is expected to hike interest rates.
At the moment, consensus estimates place a rate hike in place by mid-2015.
Here's what else you should know – including your Tip of the Day – to make your Wednesday profitable: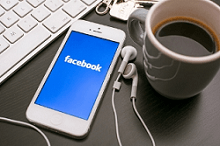 Facebook Follies: Shares of Facebook Inc. (Nasdaq: FB) are weighing down the Nasdaq, falling more than 6% in pre-market hours. The stock rebounded slightly from a post-market drop of 10%. After reporting the company beat earnings estimates by three cents, it warned investors that 2015 will be a year of heavy investment and slowing growth. Despite all the negative press this morning, our Capital Wave Strategist Shah Gilani – who recommended the stock when it was just $20 a share in late 2012 – says that Facebook is definitely presenting a buying opportunity right now. Here's more on why  Facebook is a buy.
Rethinking Privatization: Shares of Orbital Sciences Corp. (NYSE: ORB) fell more than 14% in post-market hours after the company's unmanned rocket Antares exploded shortly after takeoff on Tuesday night. The rocket, which was equipped with cargo and bound for the International Space Station, exploded just a few seconds after launch in Virginia. This was the third of eight planned launches for the company, and it represents the first accident since NASA turned to private contractors to resupply the International Space Station.
Shake-Up in Germany: Shares of Deutsche Bank AG (NYSE: DB) are down more than 2% in pre-market hours on news that the company is replacing its chief financial officer. The firm announced that Marcus Schenck, an investment banker at Goldman Sachs will replace Stefan Krause, who successfully guided the bank through the European Central Bank's recent stress tests. The company also announced a quarterly loss of roughly $117 million yesterday.
Russian Problems: The Russian currency, the ruble, fell to a record low against the U.S. dollar and the euro this morning. The news comes despite a $2.5 billion intervention from the country's central bank. The currency has now fallen more than 20% since the beginning of 2014. But to make matters worse, the nation, which relies on oil and gas revenues for more than 50% of its annual budget, is being hammered by declines in the international oil markets. Our energy expert, Dr. Kent Moors, explains that conditions are only going to get worse for Russia.
Oil Prices Today: Oil prices have rebounded on a falling dollar, recovering since Monday's negative price forecast from investment bank Goldman Sachs Group Inc. (NYSE: GS). Brent crude, the global benchmark priced in London, was up more than 1%, hovering near $87 this morning. Meanwhile, WTI crude, priced in Manhattan, was up 0.8%, a notch above $82.
Economic Calendar: Today's economic calendar features the EIA Petroleum Status Report, the FOMC Meeting Announcement, and an update on MBA Purchase Applications.
Full U.S. Economic Calendar October 29, 2014
MBA Purchase Applications at 7 a.m.
EIA Petroleum Status Report at 10:30 a.m.
2-Year FRN Auction at 1 p.m.
5-Year Note Auction at 1 p.m.
FOMC Meeting Announcement at 2 p.m.
Money Morning Tip of the Day: Our Technology Specialist, Michael A. Robinson, is a 34-year Silicon Valley veteran. Today, he wants to tell you about one of the most exciting scientific breakthroughs he has come across in his career. It is nothing short of revolutionary and, for the companies involved, it's an equally awe-inducing investment opportunity…