What the Dow Jones did today: The market soared Thursday following a strong quarterly report from two credit card giants and a better-than-expected U.S. Q3 GDP report.
Let's take a look at today's scorecard:
Dow Jones:  17,195.55,  +221.24,  +1.3%
S&P 500:  1,994.64,  +12.34,  +0.62%         
Nasdaq:  4,566.14,  +16.91,  +0.37%
The S&P 500 Volatility Index (VIX), the market's fear gage, slipped more than 2% on the day.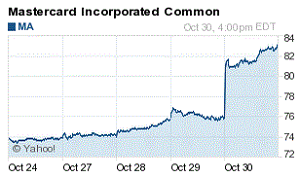 What Moved Markets Today: Credit card giants Visa Inc. (NYSE: V) and Mastercard Inc. (NYSE: MA) jumped 10% and 8.5% respectively on strong earnings reports, boosting the Dow Jones and S&P 500. Both companies said that mobile payments will be a strong component of future earnings and raised their outlooks on consumer transitions to the digital wallet. Mobile payments is going to be a very lucrative industry for investors. That's why we just put together a list of the companies winning this "mobile payments war" – take a look.
Today's Most Notable Economic News: The U.S. Commerce Department's first estimate of third-quarter GDP came in above market expectations. The nation's economy grew by 3.5% in the third quarter, well ahead of consensus expectations of 3.0%. This is still below the 4.6% growth reported in Q2, but provides strong momentum and confidence in the economy. The U.S. economy saw its strongest levels of military spending in five years.
Now check out the day's most important market notes (we filtered out the "noise"):
Now our experts share some of the most important investment moves to make based on today's market trading – for Money Morning Members only:
How to Profit from a Stronger U.S. Dollar: Our resource expert Peter Krauth, a 20-year commodity guru and portfolio advisor, has identified a very rare, very lucrative opportunity…You see, the Federal Reserve is winding down its asset purchases, but Japan and the United Kingdom are still buying, full swing. Meanwhile, the European Union is just getting started with its stimulus efforts. That has sent the U.S. dollar into a major run up, with the euro and yen on the losing side. Go here to get this profit play on the global currency war.
The Profit Opportunity in Hong Kong's Unrest: Even in civil unrest, there's investment potential… But it's key to understand what's behind the Hong Kong riots in order to see the profit opportunity. Go here to get the full story.
How to Get a Piece of Wall Street Profits Without the Wall Street Corruption: There's simply no limit to how far Wall Street will go to make a buck. It's no wonder. With corporate offenses and "bad behavior" routinely going unpunished, perpetrators have developed a sense of immunity. But we can strike back against banks that are behaving badly. And here's how we're going to play a non-bank investment against a rigged services industry…