The Bank of Japan (BOJ), Japan's central bank, just tricked global markets by lavishing them with an awesomely sweet Halloween treat.
There's only one problem, and that's how the addition of all this fake sweetener stuff will end.
Keep reading. Your heart is going to pound...
Bank of Japan Stimulus: Back from the Grave
The BOJ brought "Abenomics" back to life this morning when it announced it would ramp up efforts to treat, treat, and treat the economy to some more sugar-laced stimulus on steroids. (Abenomics is the tag hung on Prime Minister Shinzo Abe and his central bank's stimulus efforts.)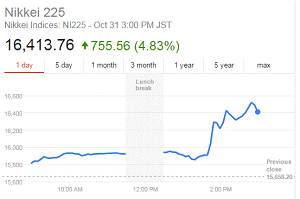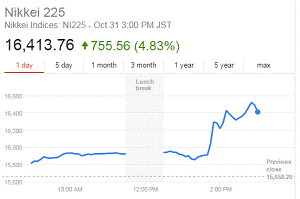 This was a three-way lick 'em and stick 'em bonanza:
First, the BOJ promised to triple the pace of its purchases of stocks and property funds.
Second, the bank said it's going to extend the maturities (buy longer-dated issues) of bonds it's stockpiling by three years, to an average maturity of 10 years.
And third, the bank is going to raise the ceiling of its annual government bond purchases by 30 trillion yen ($267.56 billion) to 80 trillion yen ($713.5 billion).
And if that triple threat wasn't enough, Japan's gigantic public pension fund - the largest in the world - said it will start buying more global stocks and exchange-traded funds (ETFs) to jolt its returns.
Holy sugar shack.
Equity markets are soaring higher on the news. Central bank stimulus is sweet music to stocks.
If you want to make money on this news, you buy, buy, and buy stocks and more stocks.
Keep on dancing until the music stops.
Of course, there's just one little problem. Eventually, all that sweet stuff will give global markets a heart attack...
In the meantime, enjoy the treat. I'll tell you when the party's over and it's time to slim down on stocks and short everything.
More from Shah Gilani: The triple-digit moves we've been seeing so much of lately in the Dow Jones Industrial Average are telling. And they're not likely to go away any time soon. Here's why market volatility is the new normal...
Join the conversation. Click here to jump to comments…
About the Author
Shah Gilani boasts a financial pedigree unlike any other. He ran his first hedge fund in 1982 from his seat on the floor of the Chicago Board of Options Exchange. When options on the Standard & Poor's 100 began trading on March 11, 1983, Shah worked in "the pit" as a market maker.
The work he did laid the foundation for what would later become the VIX - to this day one of the most widely used indicators worldwide. After leaving Chicago to run the futures and options division of the British banking giant Lloyd's TSB, Shah moved up to Roosevelt & Cross Inc., an old-line New York boutique firm. There he originated and ran a packaged fixed-income trading desk, and established that company's "listed" and OTC trading desks.
Shah founded a second hedge fund in 1999, which he ran until 2003.
Shah's vast network of contacts includes the biggest players on Wall Street and in international finance. These contacts give him the real story - when others only get what the investment banks want them to see.
Today, as editor of Hyperdrive Portfolio, Shah presents his legion of subscribers with massive profit opportunities that result from paradigm shifts in the way we work, play, and live.
Shah is a frequent guest on CNBC, Forbes, and MarketWatch, and you can catch him every week on Fox Business's Varney & Co.