[Note: This story was updated Wednesday, Nov. 5.]
Following my initial post on Halloween last week, gold is still taking it on the chin. It's on track for a 4.5-year low today.
After peaking at $1,250.25 an ounce on Oct. 21, it has fallen steadily to $1,142. Gold futures were last quoted down $26 at $1,141.70 an ounce.
Three main factors have contributed to why today's gold price is going down.
Here's a look at each one – and why the pain isn't quite over yet…
Why Gold Is Down, Headwind No. 1: Stronger U.S. Dollar
The dollar's been on a tear for months.
A strong U.S. dollar works against gold. That's because gold is priced in dollars – as the dollar gains strength, it takes fewer greenbacks to buy the same ounce of gold. On at least a short-term basis, these two trade inversely.
[Note to Gold Buyers: Gold is still the best safe-haven investment around, but "caveat emptor" – hundreds of counterfeiters are arrested each year for selling fakes. Avoid the scam artists with this buyers' guide that shows you how to identify the real thing…]
Since July, the U.S. Dollar Index (USD) – a measure of U.S. currency against a weighted basket of its peers – has gained roughly 9%. That's a stunning move for a major currency over a span of just four months. The USD Index just peaked at 87.60 – the highest since 2010.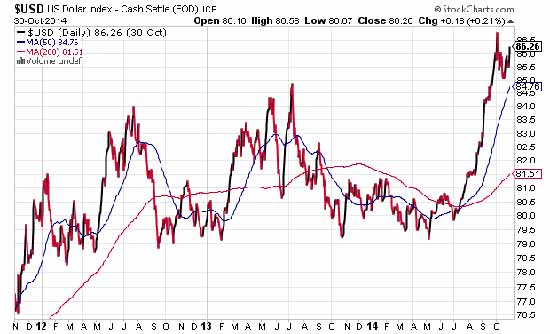 Today, the dollar's gaining on news that U.S. midterm elections went to the Republican party. The GOP is widely considered the better choice for economic growth and businesses.
Positive economic reports and the U.S. Federal Reserve's announcement last week that it will end its massive bond-buying program provided support for the dollar's uptick. Optimistic Fed comments on labor and a gain of 3.5% in U.S. GDP for the third quarter boosted the greenback even more. Today, data from ADP Research Institute showed that U.S. companies added 230,000 workers to payrolls in October. That beat the increase of 220,000 economists had predicted.
Also today, we've seen the dollar gather even more strength thanks in part to a weaker yen. The Bank of Japan announced last week that it would increase its planned asset purchases, boosting them to about $716 billion. Today, Bank of Japan Governor Haruhiko Kuroda said he saw no limit to the steps officials can take to defeat deflation. That means more QE from Japan, leading to a weaker currency. The news pushed the greenback up to 114.78 yen – its highest in nearly seven years.
Finally, though less significant than Japan, news from Russia's central bank last week is also hurting gold.  The bank raised its main interest rate from 8% to 9.5% to shore up the falling ruble. The rate's been climbing rapidly since March when it was at 5.5%, and still the ruble keeps hurting. It fell to a record low today, sliding as much as 3.1% against the dollar before trading 2.6% lower by 5:45 p.m. in Moscow.
Join the conversation. Click here to jump to comments…
About the Author
Peter Krauth is the Resource Specialist for Money Map Press and has contributed some of the most popular and highly regarded investing articles on Money Morning. Peter is headquartered in resource-rich Canada, but he travels around the world to dig up the very best profit opportunity, whether it's in gold, silver, oil, coal, or even potash.