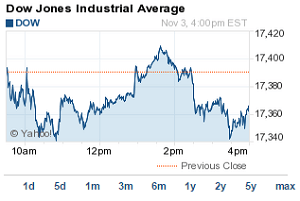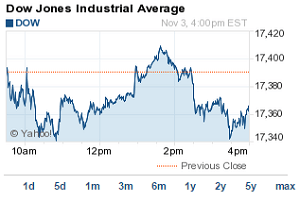 Dow Jones Today: U.S. stock markets were mixed on Monday, although the Dow Jones and S&P 500 hit intraday records during today's session. The market seems content to await the results of Tuesday's midterm elections and the upcoming October unemployment report on Friday. Energy stocks took the biggest hit as oil prices slumped yet again. The S&P 500 Volatility Index (VIX), the market's fear gage was up more than 5.5%.
Let's take a look at today's scorecard.
Dow Jones:   17,364.24    -23.28 (0.13%)
S&P 500:   2,017.48    -0.57 (0.03%)
Nasdaq:  4,638.91    +8.17  (0.18%)
What moved the markets: The markets gained some support from the recent announcement by the Bank of Japan to accelerate its own massive bond-purchasing program to stave off deflation. However, disappointing economic data from the Eurozone and China weighed on the markets this morning. The Eurozone's final October PMI reading registered at 50.6, missing consensus estimates of 50.7. Meanwhile, China reported weaker-than-expected numbers in its service sector, and it registered a five-month low in its October PMI level. Energy stocks also dragged down the Dow as oil prices slid again.
Most notable economic news: Updates on manufacturing and construction dominated the news. The Markit Manufacturing report offered a final October reading of 55.9, its lowest figures since August. Still, the October reading from the Institute for Supply Management index hit 59.0, a strong gain from September's 56.6 level. Meanwhile, U.S. construction spending in October fell by 0.4%, a rather heavy miss from the expected 0.7% level of growth.
Here's a breakdown of today's other top stories and stock performances:
Now our experts share some of the most important investment moves to make based on today's market trading – for Money Morning Members only:
How to Profit from a Stronger U.S. Dollar: The Federal Reserve plans to wind down its asset purchases this month, but Japan and the United Kingdom are still buying, full swing. Meanwhile, the European Union is just looking to get started with its stimulus efforts. That's sent the U.S. dollar into a major run up, with the euro and yen on the losing side. This adds up to a global currency conflict. And our resource expert Peter Krauth, a 20-year commodity guru and portfolio advisor, has identified a very rare, very lucrative opportunity…
How to Profit from Unrest in Hong Kong: Most investors haven't got a clue about what Hong Kong's riots represent, let alone the investment potential that's being unleashed there. As a result, they're going to miss out on some really terrific profit opportunities. But before we get to the best way to play this, understanding what's driving the unrest is our key…
How to Get a Piece of Wall Street Profits Without the Wall Street Corruption: There's simply no limit to how far Wall Street will go to make a buck. It's no wonder. With corporate offenses and "bad behavior" routinely going unpunished, perpetrators have developed a sense of immunity. But we can strike back against banks that are behaving badly. And here's how we're going to play a non-bank investment against a rigged services industry…