The Alibaba Group Holding Ltd. (NYSE: BABA) stock price reached another all-time high of $103.80 today (Tuesday) after the company reported quarterly earnings.
Alibaba officials reported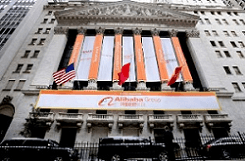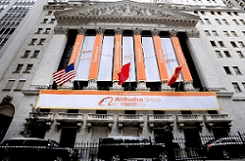 earnings per share (EPS) of $0.45, which matched consensus estimates. Revenue was $2.74 billion, an increase of 54% from last year. Analysts expected revenue of $2.64 billion.
Net income was $1.11 billion, excluding one-time items. That's an increase of 15.5% from last year.
Gross merchandise volume was another key growth figure for the company. Overall, Alibaba reported volume of $90.5 billion. That's up 49% from last year.
Its largest site, Taobao, contributed $61.9 billion to that total. Taobao's transaction volume was up 38% year over year. Tmall is Alibaba's second largest e-commerce site, and it had volume of $28.6 billion. That was a 78% jump from 2013.
The company attributed the transaction growth to a 52% increase in annual active buyers.
"Our business continues to perform well, and our results reflect both the strength of our ecosystem and the strong foundation we have for sustainable growth," Alibaba Group CEO Jonathan Lu said in a release.
And while many on Wall Street focus on EPS and revenue today, there are other factors in today's report that are even more important for the BABA stock price…
BABA Stock: Biggest Catalysts in Today's Earnings
Alibaba has been investing heavily to increase its mobile presence. Earlier this year, BABA spent $215 million for a minority stake in the messaging app Tango. Just two weeks later, it spent an undisclosed sum on the mobile ride-sharing app Lyft.
It's paid off.
The number of mobile users was up 138% to 217 million. Alibaba had just 91 million monthly active mobile users last year and 188 million last quarter.
Now, mobile users account for 35.8% of the company's transaction volume.
And mobile users are buyers. Incredibly, mobile revenue increased by more than 1,000% year over year.
And now, Alibaba Chairman Jack Ma wants to make that business international. Last week he expressed interest in partnering with Apple Inc.'s (Nasdaq: AAPL) new mobile payment service Apple Pay.
"According to market researcher Gartner, the global market for mobile payments is projected to nearly triple – from $235 billion last year to $720 billion by 2017," Money Morning's Executive Editor Bill Patalon said. "In the U.S. market every day there are more than 200 million credit card and debit card transactions – with American consumers spending $12 billion in the process."
Alibaba expanding its mobile and e-commerce businesses in the United States would be a major catalyst for BABA stock.
The company already has a stranglehold on China's market. Nearly 80% of all online transactions in the country happen on one of Alibaba's sites. Succeeding stateside would make BABA a major player in the world's two largest e-commerce markets.
Unfortunately for investors, Ma did not divulge any more information regarding the Apple talks today. But any updates on U.S. expansion in the near future will be bullish for BABA stock.
Now that this quarter's earnings are in the rearview mirror, here's what investors can expect next quarter. Hint: it's big…