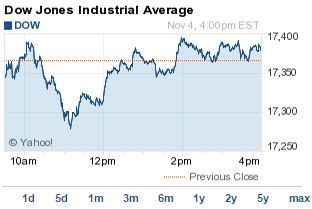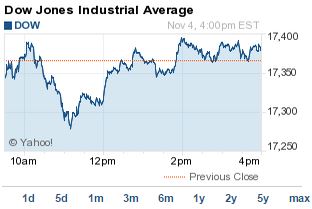 Dow Jones Today: U.S. stock markets were mixed Monday as investors await the results of today's midterm elections. The Nasdaq and S&P 500 ended the day in the red. The Dow Jones tacked on 17 points. With oil prices slumping more than 3% to multi-year lows Tuesday, energy stocks plunged again. The S&P 500 Volatility Index (VIX), the market's fear gauge, was up more than 1%.
Today's Scorecard:
Dow Jones: 17,383.84, +17.60, +0.10%
S&P 500: 2,012.10, -5.71, -0.28%
Nasdaq: 4,623.64, -15.27, -0.33%
What Moved Markets Today: Energy stocks weighed on the Dow Jones this afternoon, falling for the fourth consecutive trading session. The bigger story centers on mid-term elections in the United States and whether the Republican party will take hold of the Senate. However, there is growing uncertainty as to whether the balance in the Senate will be decided by midnight this evening, as a number of too-close-to-call races and runoffs are possible.
Today's Most Notable Economic News: European growth will be lower than expected this year. This morning, the European Commission again slashed its growth estimates for the 18-nation euro-zone. The European Commission revised its 2014 growth outlook from 1.1% to 0.8% for 2014 and slashed the 2015 outlook from 1.7% to 1.1%.
Now check out the day's most important market notes:
Oil Slumps Again: Oil prices slipped into Contango this morning, adding increased price pressures to a slumping commodity. West Texas Intermediate prices settled a notch above $77 per barrel, while Brent crude prices declined for a fourth-straight session. The combination of a possible Republican Senate and falling oil prices renewed speculation that the Keystone Pipeline could become one of the first debates of the new Congress.
Liftoff: Airline stocks soared on falling oil prices, helping to boost their bottom line and contain one of the most burdensome business costs to the industry. Shares of American Airlines Group Inc. (Nasdaq: AAL) jumped nearly 2.5% intraday, approaching the stock's 52-week high. Shares of United Airlines Group (NYSE: UAL) rose more than 2.3% intraday. Shares of Southwest Airlines (NYSE: LUV) rose by more than 3%.  Despite the positive news for airline stocks, many flyers might be wondering why the companies are still charging extra fees, originally designed to keep airlines profitable during times of high oil prices. This year, airline companies will earn $49.9 billion in "fees," including extra baggage costs and cancellation or change fees.
The New Giant: Shares of Alibaba Group Holding Ltd. (NYSE: BABA) jumped more than 4% and hit a closing high of $106.07. The company reported earnings per share (EPS) of $0.45, meeting Street estimates. The company also reported quarterly revenue of $2.74 billion, an increase of 54% from last year. Wall Street analysts expected revenue of $2.64 billion. Here's a full breakdown of what Alibaba's earnings mean to investors moving forward.
Today's Big Gain: Shares of Procter & Gamble Co. (NYSE: PG) rose more than 1.5% this afternoon. The stock rebounded from yesterday's announcement that the Argentinian government accused the company of tax fraud and suspended its operations in the country.
Disappointing Results: Shares of Amgen Inc. (Nasdaq: AMGN) slipped more than 0.5% on news that the company's experimental ovarian cancer drug failed in a late-stage trial. The company said that the drug did not improve survival rates for the disease.
Now our experts share some of the most important investment moves to make based on today's market trading – for Money Morning Members only:
How to Profit from a Stronger U.S. Dollar: The U.S. Federal Reserve plans to wind down its asset purchases this month, but Japan and the United Kingdom are still buying, full swing. Meanwhile, the European Union is just looking to get started with its stimulus efforts. That's sent the U.S. dollar into a major run-up, with the euro and yen on the losing side. This adds up to a global currency conflict. And our resource expert Peter Krauth, a 20-year commodity guru and portfolio advisor, has identified a very rare, very lucrative opportunity…
How to Profit from Unrest in Hong Kong: Most investors haven't got a clue about what Hong Kong's riots represent, let alone the investment potential that's being unleashed there. As a result, they're going to miss out on some really terrific profit opportunities. But before we get to the best way to play this, understanding what's driving the unrest is key…
How to Get a Piece of Wall Street Profits Without the Wall Street Corruption: There's simply no limit to how far Wall Street will go to make a buck. It's no wonder. With corporate offenses and "bad behavior" routinely going unpunished, perpetrators have developed a sense of impunity. But we can strike back against banks that are behaving badly. And here's how we're going to play a non-bank investment against a rigged services industry…