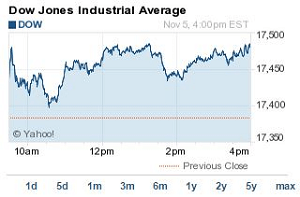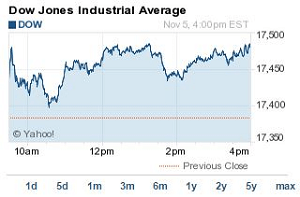 U.S. stock markets jumped Wednesday on a Republican surge in Tuesday's midterm elections and stronger than expected private-sector job growth. The Dow Jones and S&P 500 hit all-time record highs today. The S&P 500 Volatility Index (VIX), the market's volatility gauge, dipped 4.8%.
Meanwhile, hard commodities continue to face an onslaught. Gold prices fell to a four-year low, dropping another 1.8% to $1,145.90 per ounce. Silver prices plunged another 3% to hit $15.47 per ounce.
Today's Scorecard:
Dow Jones: 17,484.53, +100.69, +0.58%    
S&P 500: 2.023.57, +11.47, +0.57%           
Nasdaq: 4,620.72, -2.91, -0.06%     
What Moved Markets Today: Energy stocks led the charge on Wednesday after optimism fueled the markets over possible legislative policy that could soon come from a new Republican Senate majority. The most notable name was TransCanada Corp. (NYSE: TRP), which saw shares jump 3.25%. The company is best known for being the principle owner of the long-delayed Keystone Pipeline. Companies also engaged in shipping, storage, and exporting of fuels saw strong gains on the day.
Today's Most Notable Economic News: According to the ADP National Employment report, U.S. private employers created 230,000 jobs in October. This was the highest level in four months and beat analyst expectations. The news provides a boost of confidence in the labor markets ahead of Friday's U.S. jobs report for the month of October. Consensus estimates for last month's ADP figure was 220,000.
Now check out the day's most important market notes:
Now our experts share some of the most important investment moves to make based on today's market trading – for Money Morning Members only:
How to Profit from a Stronger U.S. Dollar: The U.S. Federal Reserve plans to wind down its asset purchases this month, but Japan and the United Kingdom are still buying, full swing. Meanwhile, the European Union is just looking to get started with its stimulus efforts. That's sent the U.S. dollar into a major run-up, with the euro and yen on the losing side. This adds up to a global currency conflict. And Money Morning Resource Specialist Peter Krauth, a 20-year commodity guru and portfolio advisor, has identified a very rare, very lucrative opportunity…
How to Profit from Unrest in Hong Kong: Most investors haven't got a clue about what Hong Kong's riots represent, let alone the investment potential that's being unleashed there. As a result, they're going to miss out on some really terrific profit opportunities. But before we get to the best way to play this, understanding what's driving the unrest is key…
How to Get a Piece of Wall Street Profits Without the Wall Street Corruption: There's simply no limit to how far Wall Street will go to make a buck. It's no wonder. With corporate offenses and "bad behavior" routinely going unpunished, perpetrators have developed a sense of impunity. But we can strike back against banks that are behaving badly. And here's how we're going to play a non-bank investment against a rigged services industry…