Crude oil prices made a sharp reversal today on two new developments …
After two punishing days of declines, the price of oil jumped nearly $2 a barrel shortly after 11 a.m. following unconfirmed reports of an oil explosion in Saudi Arabia.
Also stoking prices Wednesday was weekly inventory data released at 10:30 a.m. showing stockpiles rose by a modest 640,000 barrels.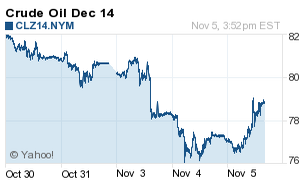 As of 4 p.m., light, sweet crude for December delivery was up $1.70, or 2.2%, at $78.89. Brent, meanwhile, was higher by $0.46, or 0.56%, at $83.28.
Traders are looking for gains anywhere they can get them. Crude prices closed at a three-year low of $77.19 Tuesday (after falling as low as $75.84) after Saudi Arabia announced Monday it would slash the price at which it sells oil to the United States. At the same time, the world's largest oil exporter hiked export prices to Asia.
The 2% drop marked oil's lowest closing price since Oct. 4, 2011. WTI is now down a painful 30% since its June high of nearly $108 per barrel. Brent fell $2.32, or 2.7%, to $82.46 a barrel on Tuesday. That was its lowest level since October 2010.
Saudis had cut prices to Asia four months in a row from August to November. It wanted to make its oil more attractive compared to exports like Angola and Libya, according to The Wall Street Journal.
Now Saudi Arabia's focus is on U.S. customers.
The country needs to prop up the struggling oil price – but this move marks a different tactic from Saudi Arabia.
You see, the last time the oil leader wanted to stop a price plunge, it cut production. In 2008 and 2009, the country was the biggest contributor to the Organization of Petroleum Exporting Countries' (OPEC) 5 million-per-day production cuts.
This move comes less than a month after Saudi Aramco, the state-run oil producer, cut prices for all its exports.
"There appears to be a direct battle underway among OPEC members for market share in a pricing environment increasingly defined by unconventional (shale and tight) reserves," said Money Morning Global Energy Strategist Dr. Kent Moors at the time of the previous price cut. OPEC isn't used to pricing oil in a shale-boom environment.
Moors said the move suggests that Saudi Arabia, OPEC's biggest member, would rather charge less for oil than cede market share through lower output, according to a comment from Commerzbank, the Frankfurt-based global banking giant.
So what does the oil price cut mean for U.S. oil producers?
How Lower Crude Oil Prices Hit Home