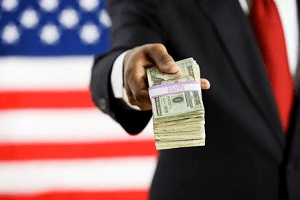 U.S. companies have written a lot of checks this year to make sure they're well-represented in Washington...
Yesterday, Money Morning gave you the companies that backed five key winners in Tuesday's race - the most expensive midterm election in U.S. history, according to the Center for Responsive Politics. This year's 10 priciest Senate races alone cost nearly $700 million.
But campaign contributions aren't the only way businesses press their interests. Each year, companies (as well as labor unions and other organizations) spend billions to lobby Congress and federal agencies. More than $2.41 billion has been spent on corporate lobbying in 2014 alone.
The highest spending sector in the third quarter was "Miscellaneous Business," which includes business associations, manufacturers and distributors, chemical-related manufacturing, retail sales, casinos, and more. It shelled out a little more than $25 million - 22% growth compared to the same period a year ago.
Here are the other highest-spending sectors:
Finance, insurance, and real estate
Defense
Construction
Lawyers and lobbyists
Labor
Transportation
Communications
Energy and natural resources
Each of these sectors have standout companies that spent the most to advocate their interests in Washington. The top 10 publicly traded companies alone spent a total of $117 million through Q3.
Here they are, starting with the biggest spender. Check out how much each has spent, plus the issues each cared most about in 2014:
No. 1: Google Inc. (Nasdaq: GOOG, GOOGL)
The Internet search king came in first place for annual lobbying expenditures at $13,680,000. The majority of GOOG's spending was on copyright, patent, and trademark issues. Telecommunications was also a big priority.
No. 2: Dow Chemical Co. (NYSE: DOW)
Founded in 1897, Dow Chemical is the second-largest chemical manufacturer in the world by revenue (behind Germany's BASF SE [OTCMKTS ADR: BASFY]). The Midland, Mich.-based company has spent $12,370,000 so far in 2014, the most of which went to energy issues. Environmental, agricultural, tax, and trade issues followed next.
No. 3: General Electric Co. (NYSE: GE)
GE has shelled out $12,480,000 so far this year. Its top issues were taxes, defense, finance, and federal budget & appropriation spending.
No. 4: Boeing Co. (NYSE: BA)
The world's largest exporter in the United States by dollar value, Boeing's annual lobbying expenditures are up to $12,330,000 this year. Its top issue by far was defense - no surprise there. Aviation, airlines and airports, federal budget and appropriations, and aerospace were Boeing's next-highest priorities.