You'd be hard pressed to find two guys more different than Warren Buffett and Google (Nasdaq: GOOG, GOOGL) Director of Engineering Ray Kurzweil.
Buffett, probably the world's most famous investor, had steered clear of high tech until just the last few years, saying he didn't understand the field.
Kurzweil, on the other hand, has pushed the boundaries of innovation for more than five decades. As a teenager, he created a groundbreaking computer program that could play classical music and netted him an appearance on the TV game show "I've Got a Secret."
He's never turned back, inventing omni-font optical character recognition, flat-bed scanners, text-to-speech programs, and artificial intelligence for trading the markets.
Now, he may be best known for his prediction that in the near future man and machine will become intertwined in an event he calls the "singularity."
Today, I want to tell you why Google is such an intriguing tech investment with enormous upside.
This industry leader has somehow combined Buffett's business genius and Kurzweil's futurist brain…
Google's (Nasdaq: GOOG, GOOGL) Not Standing Pat
As a former part-time musician, I've followed Kurzweil's work for many years now. His Kurzweil K250 synthesizers that debuted in 1984 redefined electronic music.
The sounds from those devices were so realistic that in some tests professionals couldn't tell the difference between a K250 and a real grand piano.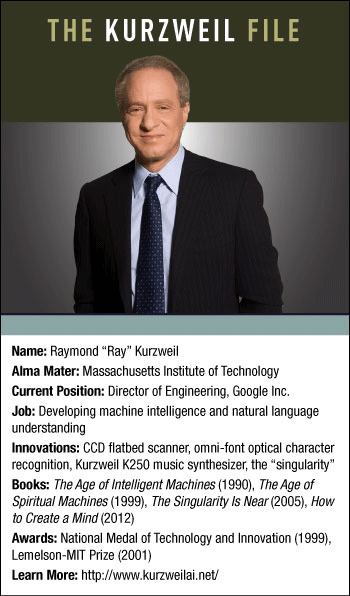 A list of Kurzweil's many inventions would run several paragraphs. When it comes to high tech, few can match his track record.
So, when our favorite futurist took a high-profile Silicon Valley job two years ago, I was excited to see what he might come up with.
Kurzweil has said many times that the three areas most vital to the next phase of human development are what he calls "GNR" – genetics, nanotechnology, and robotics.
I certainly don't disagree with that.
And so I think you all should take a close look at Kurzweil's work at Google Inc. (Nasdaq: GOOG, GOOGL), where he's a director of engineering.
It's not well known, but even before Kurzweil's arrival, the Internet search giant had been making great strides in GNR through its secretive Google X facility.
First, in 2010, came a driverless car. And since then, we've seen Google Glass, glucose-monitoring contact lenses and other biotech projects, Project Wing (drone delivery), and Project Loon (Internet service via high-altitude balloons) come out of the Google X labs.
Wall Street analysts and other investors often criticize Google X's "science fiction-sounding solutions." They claim the company is preoccupied with futuristic technology and doesn't pay enough attention to core search products.
In a recent interview with the Financial Times, Google Chief Executive Officer Larry Page rejected that criticism outright. Page says he emulates none other than Warren Buffett, whose Berkshire Hathaway Inc. (NYSE: BRK.A) is the most successful conglomerate in history; shares of its Series A stock are currently priced at more than $217,000.
Page says he's on a mission to make Google the Berkshire Hathaway of high tech. He told FT that his "patient capital" approach will pay off handsomely for investors over the long haul – and I concur.
If Google wants to compete with Apple Inc. (Nasdaq: AAPL) and other tech leaders and up-and-comers, there's no way it can stand pat.
With that in mind, I want to let you know more about the fascinating breakthroughs Google is making in Kurzweil's GNR.
Join the conversation. Click here to jump to comments…
About the Author
Michael A. Robinson is one of the top financial analysts working today. His book "Overdrawn: The Bailout of American Savings" was a prescient look at the anatomy of the nation's S&L crisis, long before the word "bailout" became part of our daily lexicon. He's a Pulitzer Prize-nominated writer and reporter, lauded by the Columbia Journalism Review for his aggressive style. His 30-year track record as a leading tech analyst has garnered him rave reviews, too. Today he is the editor of the monthly tech investing newsletter Nova-X Report as well as Radical Technology Profits, where he covers truly radical technologies – ones that have the power to sweep across the globe and change the very fabric of our lives – and profit opportunities they give rise to. He also explores "what's next" in the tech investing world at Strategic Tech Investor.