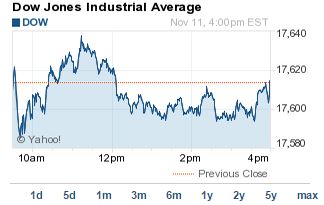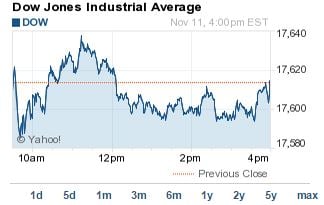 The Dow Jones today reversed earlier losses to end the trading session ahead marginally on a quiet Veterans Day. The S&P 500 Index also struck a new record close – again.
U.S. cable companies and service providers lagged for a second consecutive day after U.S. President Barack Obama called for government regulators to introduce Net Neutrality measures as soon as possible.
Today's Scorecard:
Dow: 17,614.90, +1.16, +0.01%
S&P 500: 2,039.68, +1.42, +0.07% 
Nasdaq: 4,660.56, +8.94, +0.19%
What Moved the Markets Today: With the bonds markets closed, the Dow Jones and S&P 500 saw little movement. The only notable announcement in today's trading session came during a FOX Business interview with Federal Reserve Bank of Boston President Eric Rosengren. Rosengren said the U.S. central bank should stay patient about raising interest rates. Rather than link a rate hike to a specific date, Rosengren argued that the Fed should focus on obtaining the economic results it has been seeking, which includes inflation rising to 2%.
Now check out the day's most important market notes:
Now our experts share some of the most important investment moves to make based on today's market trading – for Money Morning Members only:
How to Profit from a Stronger U.S. Dollar: The U.S. Federal Reserve concluded its asset purchases last month, but Japan and the United Kingdom are still buying, full swing. Meanwhile, the European Union is just looking to get started with its stimulus efforts. That's sent the U.S. dollar into a major run-up, with the euro and yen on the losing side. This adds up to a global currency conflict. And Money Morning Resource Expert Peter Krauth, a 20-year commodity guru and portfolio advisor, has identified a very rare, very lucrative opportunity…
How to Profit from Unrest in Hong Kong: Most investors haven't got a clue about what Hong Kong's riots represent, let alone the investment potential that's being unleashed there. As a result, they're going to miss out on some really terrific profit opportunities. But before we get to the best way to play this, understanding what's driving the unrest is our key…
How to Get a Piece of Wall Street Profits Without the Wall Street Corruption: There's simply no limit to how far Wall Street will go to make a buck. It's no wonder. With corporate offenses and "bad behavior" routinely going unpunished, perpetrators have developed a sense of impunity. But we can strike back against banks that are behaving badly. And here's how we're going to play a non-bank investment against a rigged services industry…