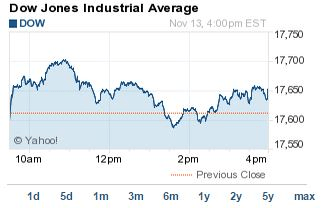 The DJIA hit yet a new record closing high Thursday – its 25th this year – to finish a day of up-and-down trading. The S&P 500 rose one point, just short of another record close.
The VIX, the market's volatility gauge, jumped 5% on the day.
Today's Scorecard:
Dow: 17,652.79, +40.59, +0.23%    
S&P 500: 2,039.33, +1.08, +0.05% 
Nasdaq: 4,680.14, +5.01, +0.11%
What Moved the Markets Today: The markets were on the rise despite the continued onslaught against oil prices on the international front. Crude oil prices fell again after OPEC announced it expects weaker demand in 2015 and Saudi Arabia remained quiet about production cuts. Brent crude, the global benchmark priced in London, fell below $78 per barrel. Meanwhile, West Texas Intermediate crude, priced in New York City, fell below $75 per share, its lowest level since September 2010. Falling prices continue to drag down energy stocks around the globe.
Now check out the day's most important market notes:
Now our experts share some of the most important investment moves to make based on today's market trading – for Money Morning Members only:
Profit from China's Currency Move: As China continues to position itself for economic dominance, its currency will take center stage in the global financial arena. There are clear and visible signs the yuan is on the march, but the financial press has seriously underreported its surge. It's an unstoppable trend, and you can profit by taking these critical steps…
How Google Will Dominate the Future: Today Money Morning Tech Specialist Michael A. Robinson explains why Google is such an intriguing tech investment with enormous upside. This industry leader has somehow combined Warren Buffett's business genius and Google Director of Engineering Ray Kurzweil's futurist brain – and there's nothing but profit for investors ahead…
The China Bears Are Wrong: Many talking heads in the financial news are shouting that China is a trap for investors. And every time they say the sky is going to fall on the world's second-largest economy, the Asian nation beats back the naysayers. Of course, the critics never go away, and they've been out in abundance recently. But as our Executive Editor Bill Patalon explains today, anyone who is bearish on China is wrong. And worse, they're leaving a lot of money on the table…