The idea of a Sears Holdings Corp. (Nasdaq: SHLD) real estate investment trust (REIT) certainly sounds attractive.
And the market was intrigued, sending shares up 31% in one day last week.
However, as tempting as it might be to buy into a newly forged REIT, Sears and its scheme are doomed. The company continues to lose customers to nimbler storefront competitors and e-commerce.
Most investors think of REITs as ways to invest in office buildings, apartments, and shopping centers – and then making cash dividends through the rent those places collect.
But what if there was a way to invest in the smartphone shoppers that are stealing Sears' business and make REIT cash at the same time?
Today we're going to take a look at just such a play together…
The Slow Unwinding of Sears
Today's note is a sad one for me to write.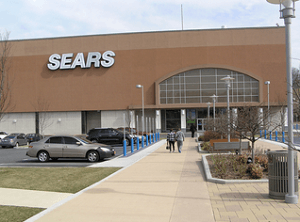 Ever since I can remember, my parents and I have shopped at Sears. We shopped there for clothes and just about everything else when I was growing up. And I've bought lots of tools and several major appliances there over the years.
But about three years ago, I stopped shopping there altogether. There are just too many other stores, both physical and online, to choose from that offer quality products at attractive prices.
Obviously, I'm not the only one who is deserting this once proud department store. The suburban Chicago-based company, which also owns Kmart (technically, however, Kmart bought Sears back in 2005), is bleeding customers.
And since 2005, Sears' asset management-inclined executives have been "realizing" the company's values more than going for the turnaround. That means they've closed hundreds of stores, let the remaining ones languish, and spun off Land's End Inc. (Nasdaq: LE) – and they want to do the same with Sears Auto Centers.
More to the point, Sears doesn't seem to have much to entice young shoppers. I have two teenage daughters, and not once has either girl ever mentioned wanting to go to our local Sears – or to buy something from its website.
And the numbers tell the story. Back in August, Sears reported a net loss of $573 million for the second quarter, or $5.39 a share, from $194 million, or $1.83, a year earlier. And revenue declined for the 30th straight quarter to $8 billion, down 10% from the same period last year.
Yes, the Sears REIT news ignited the stock. Sears rose 31% the day word broke. That sounds impressive – until you realize the shares were still more than 7% off for the year.
And the day after the Nov. 7 REIT news, Sears stock turned right around, giving up nearly 9.5% for the session. That left the stock off more than 15% so far this year, compared with 11.4% gains for the tech-centric Nasdaq Composite Index.
Those who pounced on Sears ignored one big fact.
Join the conversation. Click here to jump to comments…
About the Author
Michael A. Robinson is a 35-year Silicon Valley veteran and one of the top technology financial analysts working today. He regularly delivers winning trade recommendations to the Members of his monthly tech investing newsletter, Nova-X Report, and small-cap tech service, Radical Technology Profits. In the past two years alone, his subscribers have seen over 100 double- and triple-digit gains from his recommendations.
As a consultant, senior adviser, and board member for Silicon Valley venture capital firms, Michael enjoys privileged access to pioneering CEOs and high-profile industry insiders. In fact, he was one of five people involved in early meetings for the $160 billion "cloud" computing phenomenon. And he was there as Lee Iacocca and Roger Smith, the CEOs of Chrysler and GM, led the robotics revolution that saved the U.S. automotive industry.
In addition to being a regular guest and panelist on CNBC and Fox Business Network, Michael is also a Pulitzer Prize-nominated writer and reporter. His first book, "Overdrawn: The Bailout of American Savings" warned people about the coming financial collapse - years before "bailout" became a household word.
You can follow Michael's tech insight and product updates for free with his Strategic Tech Investor newsletter.