Gold has taken a tremendous beating in recent weeks and is now tumbling along at four-year lows of $1,160/ounce.
Things are so bad that you can actually buy the Central Fund of Canada Ltd. (NYSEMKT: CEF) – a popular gold and silver bullion investment vehicle – at a 10% to 11% discount to the price of gold, because traders think the price of gold will drop even lower.
Frankly, I think that's fantastic news.
Today I want to show you my secret "gold strike" strategy that's perfect for moments like this. You'll get the two tactics you need as a gold investor, a simple test to determine if you own enough gold, and a quick-and-dirty look at how to buy it.
Here's Why You Really Need Gold
Love it or hate it, gold is no longer an optional investment. You need gold – in some form – in your portfolio.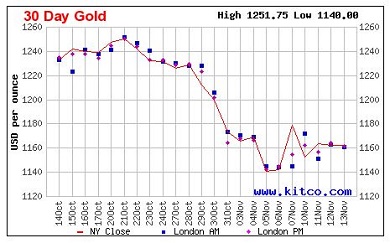 It is a critically important risk management tool that can help dampen your portfolio's overall volatility and also take the sting out of global uncertainty.
But contrary to what you may hear in late-night television commercials, gold has never, ever been proven to be an inflation hedge.
That's not why you want to own it.
You see, while gold is not correlated to inflation, it is more directly correlated to interest rates. And interest rates are, in turn, driven by inflationary pressures and global risk, especially in recent times.
Most people think about this in terms of the stocks, but where gold really shines is in protecting your bonds. You don't hear Wall Street talk about this very often.
I don't have to tell you that's about to become a huge issue for millions of investors when the Fed starts raising rates next year. A lot of people stand to lose a lot of money because they don't understand what I'm about to share with you.
That's because bond values will drop as rates rise. Bond prices and yields move in opposite directions.
So you want to protect against that risk, which brings me back to a very important question.
Join the conversation. Click here to jump to comments…
About the Author
Keith Fitz-Gerald has been the Chief Investment Strategist for the Money Morning team since 2007. He's a seasoned market analyst with decades of experience, and a highly accurate track record. Keith regularly travels the world in search of investment opportunities others don't yet see or understand. In addition to heading The Money Map Report, Keith runs High Velocity Profits, which aims to get in, target gains, and get out clean, and he's also the founding editor of Straight Line Profits, a service devoted to revealing the "dark side" of Wall Street... In his weekly Total Wealth, Keith has broken down his 30-plus years of success into three parts: Trends, Risk Assessment, and Tactics – meaning the exact techniques for making money. Sign up is free at totalwealthresearch.com.