Gold has taken a tremendous beating in recent weeks and is now tumbling along at four-year lows of $1,160/ounce.
Things are so bad that you can actually buy the Central Fund of Canada Ltd. (NYSEMKT: CEF) - a popular gold and silver bullion investment vehicle - at a 10% to 11% discount to the price of gold, because traders think the price of gold will drop even lower.
Frankly, I think that's fantastic news.
Today I want to show you my secret "gold strike" strategy that's perfect for moments like this. You'll get the two tactics you need as a gold investor, a simple test to determine if you own enough gold, and a quick-and-dirty look at how to buy it.
Here's Why You Really Need Gold
Love it or hate it, gold is no longer an optional investment. You need gold - in some form - in your portfolio.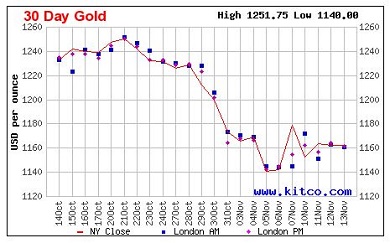 It is a critically important risk management tool that can help dampen your portfolio's overall volatility and also take the sting out of global uncertainty.
But contrary to what you may hear in late-night television commercials, gold has never, ever been proven to be an inflation hedge.
That's not why you want to own it.
You see, while gold is not correlated to inflation, it is more directly correlated to interest rates. And interest rates are, in turn, driven by inflationary pressures and global risk, especially in recent times.
Most people think about this in terms of the stocks, but where gold really shines is in protecting your bonds. You don't hear Wall Street talk about this very often.
I don't have to tell you that's about to become a huge issue for millions of investors when the Fed starts raising rates next year. A lot of people stand to lose a lot of money because they don't understand what I'm about to share with you.
That's because bond values will drop as rates rise. Bond prices and yields move in opposite directions.
So you want to protect against that risk, which brings me back to a very important question.
Join the conversation. Click here to jump to comments…
About the Author
Keith is a seasoned market analyst and professional trader with more than 37 years of global experience. He is one of very few experts to correctly see both the dot.bomb crisis and the ongoing financial crisis coming ahead of time - and one of even fewer to help millions of investors around the world successfully navigate them both. Forbes hailed him as a "Market Visionary." He is a regular on FOX Business News and Yahoo! Finance, and his observations have been featured in Bloomberg, The Wall Street Journal, WIRED, and MarketWatch. Keith previously led The Money Map Report, Money Map's flagship newsletter, as Chief Investment Strategist, from 20007 to 2020. Keith holds a BS in management and finance from Skidmore College and an MS in international finance (with a focus on Japanese business science) from Chaminade University. He regularly travels the world in search of investment opportunities others don't yet see or understand.