Google Inc. (Nasdaq: GOOG, GOOGL) is the most innovative technology company in America.
It's changed the way we search the Internet. Back in 2006, the verb "to Google" was added to the Oxford English Dictionary. In August 2013, a five-minute Google.com outage caused a 40% dip in global web traffic.
It's changed the way we go places. Google Maps is the most-used smartphone app in the world - used roughly 10% more than Facebook's app. Street View has photographed and posted more than 5 million miles of road.
Now, the tech giant is pushing the limits of modern medicine, robotics, space exploration, and more.
"There's tremendous potential for technology more generally to improve people's lives," Google Chief Executive Officer Larry Page wrote in late 2013. "So don't be surprised if we invest in projects that seem strange or speculative compared with our existing Internet businesses."
Page made good on that statement this year.
Take a look at our list of the top five Google innovations of 2014...
5 Amazing Google Innovations in 2014
Google Innovation No. 1: The Cancer-Detecting Pill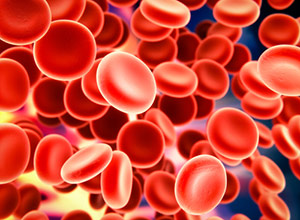 On Oct. 28, Google X - Google's "moonshot" research lab - said it's working on special nanoparticles (each less than one-thousandth the width of a red blood cell) that will patrol your bloodstream as an early-warning system for cancer and other diseases.
The particles seek out and glom onto cells, proteins, or other molecules in your body. Then a wearable device that Google's designing in conjunction will use magnetic properties to attract and collect data from the particles.
"Every test you ever go to the doctor for will be done through this system," Google X head of Life Sciences Dr. Andrew Conrad said. "That is our dream."
The technology is at least five years off, but when this Google innovation comes to market, it will change the practice of preventative medicine.
Google Innovation No. 2: The World's Fastest Undersea Cable
On Aug. 12, Google announced a $300 million deal to develop and implement a trans-Pacific cable that connects Japan and the United States undersea.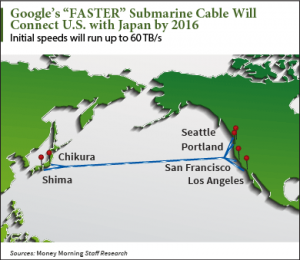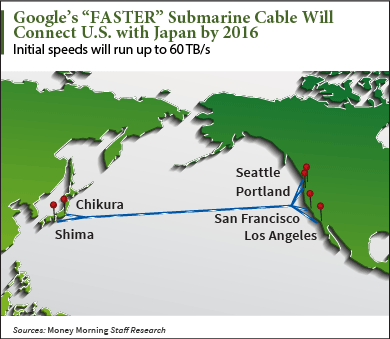 "If I were a traditional telecom operator I would be terrified," Money Morning Chief Investment Strategist Keith Fitz-Gerald said earlier this year. "This highlights how much is at stake and will give Google a significant leg up on the 'Internet of Everything.'"
The submarine cable is called FASTER, and it's just that. FASTER will reach initial speeds of up to 60 terabytes per second (TB/s). By comparison, Comcast internet typically operates at 50 megabytes per second (MB/s). One gigabyte (GB) is equivalent to 1,024 MB, and one TB is equivalent to 1,025 GB. That means FASTER will be 60,000,000 times faster than Comcast internet.
"60 TB/s is in a speed range that typically defines an entire network load," Maintainn developer and MT LLC engineer Rami Abraham said. "If a single computer had such a dedicated connection, the user could download, for example, around 80,000 HD movies in 1 second. That's fast."
The cable will connect U.S. cities Los Angeles, Portland, San Francisco, and Seattle to Japanese cities Chikura and Shima. Construction is already underway. Google expects the cable to be fully operational by second-quarter 2016.
Google followed up in mid-October with a $60 million investment to connect the United States and Brazil with an undersea cable.