Despite its growth potential, Amazon stock (Nasdaq: AMZN) is not a good buy right now – but there is still an AMZN profit opportunity…
Amazon.com Inc. stock has fallen as much 29% since it peaked at over $400 a share in January 2014. It fell below $300 in October before climbing back above that figure just last week.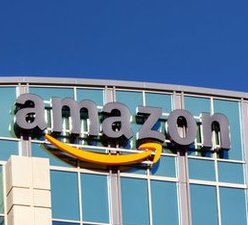 Amazon is still seeing ups-and-downs from bears who are wary of when the company will finally post a profit. While quarterly sales continue to climb year-over-year, an unsettling trend has emerged in AMZN earnings: red ink.
In Q3 2012, AMZN generated a $274 million loss on its acquistion of the online discounter LivingSocial, and with the expansion of its Kindle Fire product line. It was the first loss for the e-tailer since Q2 2003.
From then on, AMZN earnings were back-and-forth. In five of the last nine quarters, AMZN has posted losses. The biggest was announced in the most recent reporting in October, when the company reported its largest loss on record: $437 million.
Adding it up, AMZN is $357 million in the red since that first loss.
There are other numbers that are also disconcerting when it comes to AMZN.
While recent price-to-earnings ratios are hard to anaylze given the company's losses, Hoovers Company Information show a P/E ratio for AMZN at the end of 2013 reaching as high as a ridiculous 687.51.
Now, triple-digit price-to-earnings figures are typically a red flag when it comes to investing, but AMZN is not your typical company.
While Amazon is the kingpin in the online retail market, it has essentially become a growth stock. Its losses come as a result of long-term investments that are likely to pay off over years.
For example, Amazon has aggressively been reinvesting its profits in what Morningstar analysts have referred to as an "investment phase." It has been improving the functionality of the Kindle Fire, and offering it at a low price to make it a formidable player in the tablet market. It's expanded its product line with intriguing additions like Fire TV, the Fire Phone, and a mobile credit card reader.
The company has announced a new headquarters in China, supporting a more global expansion to take advantage of the fact that half the world's internet users come from emerging markets.
"This is the kind of thing growth investors have to deal with on a regular basis. The next leg up for a company means at least a few quarters of losses on a per share basis because it's expensive to ramp up," Money Morning Defense and Tech Specialist Michael A. Robinson said. "I don't think they know how long their build out is going to take, and so they intentionally leave earnings reports and calls vague to give some wiggle room."
That's why if you're looking for a bargin stock that has long-term growth potential, you shouldn't be in a hurry to snap up AMZN stock.
In fact, Robinson said he'd like to wait at least another quarter to see where the company is headed, and whether it's going to begin seeing more black ink to offset all the red.
What this does mean is right now presents an opportunity to short Amazon stock …