The Affordable Care Act was always too good to be true, but speaking the truth is bad medicine for controversial laws.
Now we know the Obamacare lies of the past six years were calculated, intentional, and crafted to fool what the healthcare law's creators assumed to be an ignorant American public.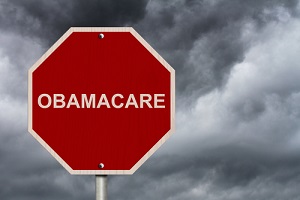 We know this because one of the ACA's central architects, MIT professor Jonathan Gruber, has said so.
In at least a half-dozen videos that have surfaced on the Internet, Gruber explains how the law was crafted to hide its true impact.
That means such infamous whoppers as "If you like your healthcare plan, you can keep it" were not innocent mistakes, but deliberate Obamacare lies. Everyone involved in the writing of the ACA knew from the start knew such assertions were false.
But they also knew if they told the truth, the public outcry would have strangled the ACA in its crib.
And yet that's not the worst part. According to Gruber, the creators of the ACA felt sure they'd get away with all the Obamacare lies because of "the stupidity of the American voter."
It's a point Gruber makes on several occasions.
"It's a very clever, you know, basic exploitation of the lack of economic understanding of the American voter," he says in another video as he discusses the "Cadillac tax."
Obamacare Facts Give Top Democrats Amnesia
Although top Democratic leaders frequently cited Gruber's work back in 2009 and 2010, the incendiary videos have brought on mass amnesia.
When asked about Gruber's remarks on Sunday, U.S. President Barack Obama dismissed Gruber as "some adviser who never worked on our staff" and who "expressed an opinion I completely disagree with."
Rep. Nancy Pelosi, D-Calif., who was Speaker of the House in 2009 when the ACA was passed, was equally dismissive. "I don't know who he is and he didn't help write our bill," she said.
But back in 2009 Pelosi publicly praised Gruber for his work on the healthcare law, as did other Democrats. And the Obama administration paid Gruber nearly $400,000 for his contributions to the crafting of the law. He's visited the White House more than a dozen times since 2009.
Gruber later was loaned to Congress to help draft the ACA. News stories cited him as a "key architect" of the healthcare law. And he served as a consultant to federal agencies as well as state governments over the next several years, racking up millions of dollars in fees.
So when Jonathan Gruber talks about Obamacare facts, he knows what he's talking about.
Let's take a fresh look at the impact of those Obamacare lies in light of Gruber's comments…