The Dow Jones Today soared 91 points on news the Chinese central bank plans to slash interest rates and Europe will likely engage in stimulus action soon. The Dow and the S&P 500 both hit record highs on the day. The VIX, the market's volatility gauge, slipped more than 4% on the day.
Today's Scorecard: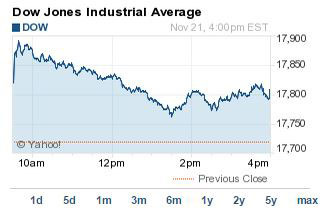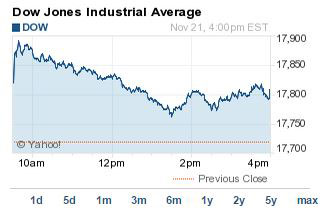 Dow: 17,810.06, +91.06, +0.51%    
S&P 500: 2,063.50, +10.75, +0.52%           
Nasdaq: 4,712.97, +11.10, +0.24%
What Moved the Markets Today: China announced plans to slash interest rates on the same day European Central Bank Head Mario Draghi called for measures to fuel inflation as soon as possible. Mark Luschini, chief investment strategist at Janney Montgomery Scott in Philadelphia, called it "a one-two punch for global growth."
The People's Bank of China slashed its one-year deposit rate by 0.25% and its one-year loan rate by 0.4%. The ECB president said his unit is prepared to engage in asset-buying to help inflation reach the bank's set target. The news sent commodities north and fueled optimism that these regions will continue to rely on centralized planning and cheap money to spur growth.
Now check out the day's most important market notes:
Is Google Gutted? According to a report from the Financial Times, the European Parliament is calling for Google Inc. (Nasdaq: GOOG, GOOGL) to split up. European regulators have drafted a motion calling for the tech giant to separate its search services business from the rest of its organization. Government officials have been increasingly concerned about the growing power consolidation of the company over the last decade. However, a call for a corporate break-up is the furthest step that European officials have ever taken. Stateside, the net neutrality debate is heating up – but here's why Google will win, no matter what.
Tech Triumph: Shares of Microsoft Corp. (Nasdaq: MSFT) fell 1.5% after the stock received a downgrade from Jefferies & Co. That said, the stock is still a buy. Money Morning Capital Wave Strategist Shah Gilani recently appeared on FOX Business' "Varney & Co." to explain why this stock is going to surge over the next five years.
So Long, Farewell: When you gotta go… you gotta go. Shares of Sotheby's (NYSE: BID) jumped nearly 7% this afternoon on news that CEO William Ruprecht is leaving. The announcement is no surprise, as activist investor Dan Loeb has been leading the charge against the departing executive. Earlier this year, Loeb released a public letter criticizing Ruprecht's leadership, which fueled a sharp decline in the stock.
Merger Mania: We've been covering a number of hot deals across all sectors over the last few months. Today, Thompson Reuters reported that merger and acquisition deals hit $3 trillion dollars this year for the first time since 2007. The swift buying and selling has been fueled by intensive consolidation in the energy, healthcare, and infrastructure sectors.
Retailer Slump: Shares of GameStop Corp. (NYSE: GME) slumped 13% on news the company missed third-quarter earnings by a wide margin. The company reported per-share earnings of $2.08, down significantly from consensus forecasts of $2.28. The company also reduced its per-share earnings estimates by $0.15.
Now our experts share some of the most important investment moves to make based on today's market trading – for Money Morning Members only:
This Play Could Double Again – But There's Much More to It: Money Morning Chief Investment Strategist Keith Fitz-Gerald's recent small-cap stock pick has already doubled. And this human augmentation company is still a great buy – especially if you understand how to use Keith's favorite trading tactic. Here's how to put the power of the "free trade" to work for you to collect even bigger gains.
How We'll Play the 2014 Year-End Rally: Stocks are headed higher through year end for many reasons, but one in particular is telling. It's really simple, yet too many people have overlooked it. Indeed, most wouldn't even give it enough thought. And that would be a big mistake… As Money Morning's Shah Gilani explains, if you understand that one compelling reason, you can pick some winners – and pocket big profits – yourself.
How Google Will Dominate the Future: Today tech Specialist Michael A. Robinson reveals why Google is such an intriguing tech investment with enormous upside. This industry leader has somehow combined Warren Buffett's business genius with the futurist brain of Ray Kurzweil, Google's director of engineering. And there's nothing but profit ahead for investors…