[Updated info on this topic, complete with the GoDaddy IPO price range, available HERE…]
A report this week indicates the GoDaddy IPO in 2015 will value the web domain company at $4.5 billion.
That valuation and the company's strong brand ensure the GoDaddy IPO will be one of the most talked about upcoming IPOs of 2015.
But those aren't buy signals for GoDaddy stock. In fact, this looks more and more like an IPO to avoid in 2015.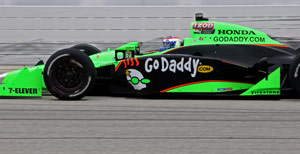 GoDaddy Inc. filed for its IPO in June. The New York Post has been the only news outlet to report the $4.5 billion valuation so far.
In June's filing, the company set a placeholder value of $100 million on the deal. Placeholder prices are common among IPO filings. Companies will typically announce a higher price closer to the IPO date. For instance, Alibaba Group Holding Ltd. (NYSE: BABA) set a placeholder of $1 billion on its IPO. It eventually raised $25 billion.
Currently, GoDaddy has 12.2 million customers. It also manages more than 57 million domain names. That domain business has been the company's hallmark since it was founded in 1997.
Despite its huge user base, GoDaddy is best known for its marketing. Ads featuring scantily clad models and celebrities like NASCAR driver Danica Patrick are frequently run during high-profile events. The company runs a Super Bowl commercial almost every year.
But now the company is trying to expand its image.
In an updated IPO filing this August, officials noted that GoDaddy's other businesses were growing. Products like "web hosting" and "business applications" now account for 44% of GoDaddy's revenue. According to The New York Times, that was up from 40% at the end of 2013.
GoDaddy's revenue is also growing. In the first half of 2014, sales hit $658.7 million. That was a 22% jump from the previous year. Adjusted earnings were up 26% to $143.5 million.
Despite those seemingly encouraging numbers, GoDaddy stock is not looking like a good investment.
In fact, the company faces two huge challenges as it prepares for its IPO...
GoDaddy IPO: Two Troubling Factors Loom Large