Gold prices broke the $1,200 an ounce threshold Friday morning for the first time since Oct. 30. Our new gold price chart reflects the yellow metal's performance in 2014: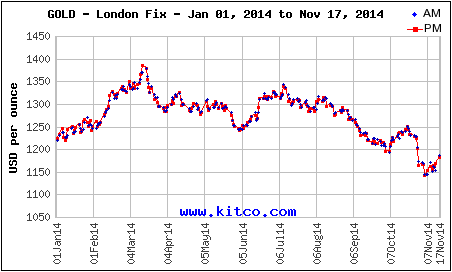 By 10:30 a.m. EST, spot gold was up $9.50 at $1,204.00 an ounce. It touched $1,207.70 early morning – its highest in three weeks. Gold futures for December delivery were up $15.20 an ounce at $1,206.10.
Here's what's moving gold prices today:
Rate Cuts in China: In a surprise move overnight, China's central bank cut benchmark interest rates. It dropped the one-year loan rate by 0.4 percentage point, and its one-year deposit rate by 0.25 percentage point. The bank is trying to stimulate China's slowing economic growth. That's good for gold because it gives Chinese consumers additional spending power. Since 2013, China has been the world's number one market for gold consumption. It bought 397 tonnes in bars and coins that year, compared to 12 tonnes in 2004. Jewelry consumption increased to 669 tonnes from 224 tonnes in the same period. The World Gold Council predicts that the country's demand will rise from a total of 1,132 tonnes in 2013, to 1,350 tonnes by 2017.
Asset-Buying in Europe: Also overnight, European Central Bank (ECB) President Mario Draghi said that he will use all means to return the EU to its inflation target. That means the ECB will likely step up its asset buying. The move lifted sentiment for gold because injection of liquidity into the economy lowers interest rates. Low interest rates make gold a more attractive investment. Conversely, when rates rise, investors typically seek out higher-yielding assets – and gold prices fall as a result.
Notable Quote: "China's central bank is now following the path of the Fed, the ECB, and the Bank of Japan," IG France chief market analyst Alexandre Baradez said to Reuters this morning. "Central banks are really driving markets."