Silver prices in 2014 have been pummeled in this second half. Just look at the accompanying silver price chart.
There are two main headwinds suppressing silver price gains right now. Each has a trigger point to watch for – a signal that this bearish period is about to reverse. That's when the price of silver will begin its rebound.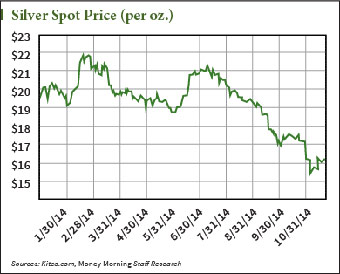 Here's what they are so investors can prepare for silver market moves heading into 2015.
Silver Price Headwinds in 2014: Bearish Speculation
The story with silver speculators has been the same throughout the year.
Speculators will take out short contracts on silver in droves, and that sell-side pressure will push prices down.
This has been the case the whole year. It was most obvious between February and June.
On Feb. 24, silver spot prices closed at their 2014 high of $21.965 an ounce. At this point, speculators held short about 79.5 million ounces of silver – a relatively low number.
At those high prices, speculators began mounting a larger short position each week.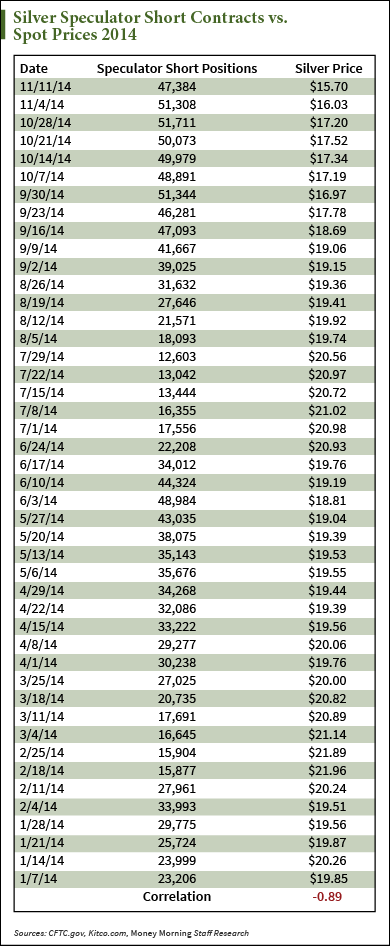 By June 2, when the silver price hit a then-2014 low of $18.76 an ounce, short sellers had built up a record high short position of 245 million ounces.
This pushed prices down, but then the same speculator activity reignited a silver rally. With short positions so high and prices so low, speculators wanted to capture profits. They bought long to cover their shorts.
By July 11, the massive short covering – when short sellers shed about 163 million ounces of silver in shorts – propelled silver prices up 14% to $21.445 an ounce.
The month-long short covering that boosted prices also brought short positions to lows not seen since February 2013. From there, the pattern started over and short positions mounted again.
That's where silver prices are now.
This time, they have been taken to even newer highs, almost 260 million ounces short by late October.
And prices began to fall below $16 for the first time in four years.
Short positions are still elevated as of the Commodity Futures Trading Commission's most recent reporting at about 237 million ounces
And while there hasn't been a consistent short covering session to propel prices up, the reality is, shorts can't be at this level for much longer before it does happen.
And that's when prices will see a jump.
Money Morning Members can see the next silver price headwind for free, in addition to the important trigger point that will indicate a bullish reversal of silver's current slide.