The best penny stocks to buy for 2015 have something many penny stocks don't give investors. They all belong to solid companies.
You see, penny stock investing is full of risks. Shell companies masquerade as profit machines. Pump-and-dump scams can leave investors penniless. And over-the-counter (OTC) and Pink Sheets stocks don't report financial information.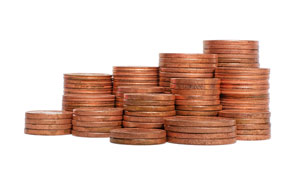 You won't find any of that here. These five stocks all trade on the New York Stock Exchange or Nasdaq. They have strong 2015 guidance figures. Some operate in a high-growth industry.
These stocks don't trade for fractions of a penny. But they also won't liquidate after selling all of their worthless shares to unwitting investors.
Here's our list of the five best penny stocks to buy for 2015, and the case for each…
The Best Penny Stocks for 2015
Penny Stocks to Buy No. 1: Novavax Inc. (Nasdaq: NVAX) is a biopharmaceutical company that develops vaccines for pandemic flu viruses, rabies, and respiratory syncytial virus (RSV). Right now, the stock is on the pricier side for a penny stock at $5.15 (the typical cut-off is about $5 a share – which NVAX traded below as recently as Nov. 20).
The key for NVAX stock is the company's strong pipeline of drug candidates. Its vaccine for the H7N9 virus was fast-tracked by the Food and Drug Administration, which speeds up the approval process. It also has an RSV vaccine in mid-stage development. Not to be overlooked, the company is also performing trials on an Ebola treatment.
Approvals or strong updates on any of these drugs would be big catalysts for the stock. And a strong pipeline gives the company multiple chances. NVAX is up 23.5% since Oct. 1, and analysts predict a 29% jump in revenue in 2015.