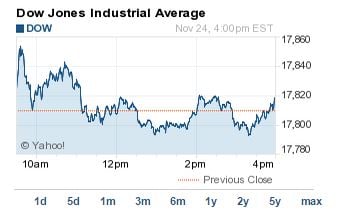 The Dow Jones today hit a new record, adding 7.8 points on a fresh round of mergers and acquisitions and news that central banks around the world are prepared to introduce new stimulus measures. The S&P 500 Volatility Index (VIX), the market's fear gauge, slipped 2.7% on the day.
Today's Scorecard:
Dow: 17,817.90, +7.84, +0.04%
S&P 500: 2,069.42, +5.92, +0.29% 
Nasdaq: 4,754.89, +41.92, +0.89%
What Moved the Markets Today: The telecom sector kept the Dow from logging greater gains today. AT&T Inc. (NYSE: T) slipped more than 1.6%. Meanwhile, rival giant Verizon Communications Inc. (NYSE: VZ) dipped more than 1.4% after the stock received a downgrade from Citigroup Inc. (NYSE: C).
Now check out the day's most important market notes:
Now our experts share some of the most important investment moves to make based on today's market trading – for Money Morning Members only:
This Play Could Double Again – But There's Much More to It: Money Morning Chief Investment Strategist Keith Fitz-Gerald's recent small-cap stock pick has already doubled. And this human augmentation company is still a great buy – especially if you understand how to use Keith's favorite trading tactic. Here's how to put the power of the "free trade" to work for you to collect even bigger
How We'll Play the 2014 Year-End Rally: Stocks are headed higher through year end for many reasons, but one in particular is telling. It's really simple, yet too many people have overlooked it. Indeed, most wouldn't even give it enough thought. And that would be a big mistake… As Money Morning's Shah Gilani explains, if you understand that one compelling reason, you can pick some winners – and pocket big profits – yourself.
How Google Will Dominate the Future: Today tech Specialist Michael A. Robinson reveals why Google is such an intriguing tech investment with enormous upside. This industry leader has somehow combined Warren Buffett's business genius with the futurist brain of Ray Kurzweil, Google's director of engineering. And there's nothing but profit ahead for investors…