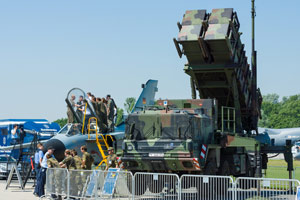 Defense stocks are among today's "need-to-have" investments.
Threats to U.S. safety are growing. Combat operations have wound down in Iraq and Afghanistan, but even as the last soldiers came home, extremism has had a violent rebirth in the Middle East.
The current battle with the Islamic State of Iraq and Syria (ISIS) is far from over. This is especially true regarding the U.S.'s cautious air campaign that has fallen far short of "degrading" (much less "destroying") ISIS, as U.S. President Barack Obama pledged to do.
And with U.S. Secretary of Defense Chuck Hagel stepping down today (Monday), the future of U.S. defense is uncertain.
Now more than ever, defense stocks are a good buy because defense companies provide certainty. They will help shape future U.S. combat roles regardless of what those become. They will deliver the appropriate technology to conduct 21st century warfare.
Money Morning Chief Investment Strategist Keith Fitz-Gerald describes this as "standoff warfare."
"What this means in plain English is that our military is transitioning to hyper-accurate weapons that can target enemies from miles away, keeping our service members out of harm's way until they absolutely have to personally engage," Fitz-Gerald said. "That way, they can limit resources and exposure while still achieving maximum effectiveness on target."
Almost all defense stocks will be good buys. One way to profit is to go for the big guys.
Raytheon Co. (NYSE: RTN), Lockheed Martin Corp. (NYSE: LMT), Northrop Grumman Corp. (NYSE: NOC), and even Boeing Co. (NYSE: BA) are among the top picks.
But each one of those stocks is selling at above $100.
That's why we found this ultra-cheap stock that is making a name for itself in defense, specializing in services that the industry giants don't.
The Hidden Gem in the Defense Sector