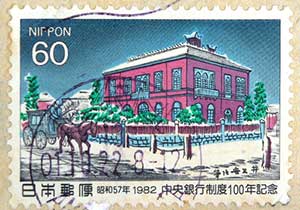 The yen is poised for a dive, and we've found the best investments for a falling yen.
Japan's 20-year fight with deflation was made worse last week with news that the country is in recession.
This was after the Bank of Japan announced an acceleration to its so-called "qualitative and quantitative easing program" on Oct. 31.
Japan will be pumping trillions of yen into its economy in the months to come. Japan's goal is to stoke inflation, spur demand, and fuel export growth.
But Japan will be stuck in deflation for a while. Nothing the central bank has done seems to be helping Japan's soft demand. Nor can this money printing compel debt-ridden consumers and businesses to borrow the funds injected into the economy.
This makes for several profit plays. And there is still plenty of time to make gains.
Here are the four best investments for a falling yen:
Best Investments for a Falling Yen No. 1: Play the Japanese Markets
The simplest way to play the BOJ's activities is to buy the Japanese markets.
Since the QE expansion, Japanese markets have soared almost 10%. Bond-buying pushes down bond yields and prompts investors to seek out higher returns in the equity markets.
An easy way to benefit from the Japanese wealth effect is to buy an exchange-traded fund (ETF) with this exposure. Money Morning Resource Specialist Peter Krauth recommends the WisdomTree Japan Hedged Equity ETF (NYSE Arca: DXJ).
"What I like here is exposure to the upside of Japanese equities, while having exchange rate differences with the USD (likely to be substantial as the yen is likely to continue falling) hedged out," Krauth said.
Best Investments for a Falling Yen No. 2: Short the Yen
Another obvious trade is to short the yen.
The USD/JPY currency pair has grown 8% to about 118 since the BOJ news. That is, 118 yen will get you one U.S. dollar. Money Morning Chief Investment Strategist Keith Fitz-Gerald said it could take as little as two years for that to reach 200.
That means there are still 70% gains to be made.
You can play the currency like a stock through the ProShares UltraShort Yen ETF (NYSE Arca: YCS), an ETF that rises whenever the yen falls against the U.S. dollar. YCS is up 17% since the BOJ announcement.
These next two investments aren't as obvious, and Money Morning members can see them for free...