If you need proof the United States is a dangerous place to live - crime aside -  just take a look at the massive scope of U.S. infrastructure problems.
CBS's "60 Minutes" highlighted this plight Sunday with a feature on how our roads and bridges are decaying, how our airports have become antiquated, and how our seaports are heading for extinction.
"Our infrastructure is on life support right now," Ray LaHood, former secretary of transportation during the first Obama administration and a former seven-term Republican congressman from Illinois, told "60 Minutes." "You could go to any major city in America and see roads and bridges and infrastructure that need to be fixed today."
U.S. infrastructure problems are so bad, the country has slipped from having the world's best infrastructure to No. 16, according to the World Economic Forum.
That's why LaHood, currently co-chairman of Building America's Future, a bipartisan coalition of current and former elected officials, is pressing for more broad-based funding for infrastructure spending needed in every state. Public spending on infrastructure has shrunk to its lowest level since 1947.
Here are some of the numbers "60 Minutes" presented - plus a few we dug up on our own - that show the sorry state of U.S. infrastructure.
The Scary Story of U.S. Infrastructure Problems in 10 Numbers
70,000: The number of bridges in America - one out of every nine - deemed structurally deficient. A structurally deficient designation means a bridge needs to either be replaced or repaired in a "dramatic" way.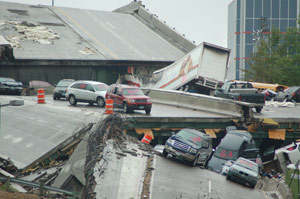 4,000: Number of bridges (20%) in Pittsburgh alone that are structurally deficient. That includes the city's key bridge - the Liberty Bridge. Five million people in Pittsburgh cross bridges daily that need replacing or major repairs - a little ironic in the "City of Bridges."
13: The number of people who died when the I-35W bridge over the Mississippi River collapsed Aug. 1, 2007, in Minnesota. Another 145 were injured. It happened during rush hour. A National Transportation Safety Board report on the cause of the crash indicated a ripped sheet of steel that was too thin led to the collapse.