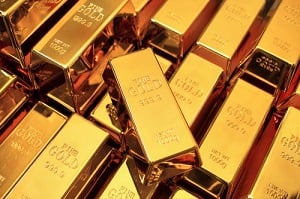 Gold Investing Myths: Gold prices have fallen for the better part of two years, but that doesn't mean that its detractors have somehow been vindicated.
Gold has often been chided by some who have mischaracterized the allure.
It's often looked at as an investment that gullible, panic-stricken investors flock to when talking heads and infomercials warn that the United States is on the brink of a Weimar-style episode of hyperinflation.
And if we look back at 2013, when gold prices really began this protracted descent, gold's critics took the opportunity to gloat. Business Insider ran the headline "The Gold Collapse Is Great News," just as the yellow metal was dipping below $1,500 an ounce.
"There's a lot of glee over this news," wrote BI's Joe Weisenthal. "Why should the decline of a relatively irrelevant commodity creating [sic] such a reaction? There's two reasons for this: [1.] Gold bugs are frequently jerks. [2.] This vindicates the economic ideas of the economic elites."
True, gold - like any investment - can be talked up by scammers who look to trap gullible investors.
But Weisenthal missed the mark when trying to malign gold investors. It is not purely mistrust in central bankers that drives people to gold.
In the right allocations gold is an important part of a healthy portfolio. It can hedge against market crisis and provide returns when other assets underperform.
Here four myths gold's critics harp on - and how they get it wrong.
Gold Investing Myth No. 1: Gold is the only investment you need.
Unlike what gold detractors will tell you, not all gold bulls think the yellow metal is the best and only investment to make.
For example, we're fans of gold at Money Morning. But we're bigger fans of stocks. Especially when underlying those stocks is a company with a fortress-like balance sheet and a globally recognized brand name delivering real needs.
"I am not suggesting that you invest exclusively in gold," Money Morning Chief Investment Strategist Keith Fitz-Gerald said. "Stocks have clearly outperformed gold over the last 125 years. But I am suggesting you buy it as part of an intelligently planned investment strategy."
The bulk of your portfolio should be dedicated to stocks. But even the well-run companies run into trouble when the broader markets fall.
And that's where gold comes in.
"Gold has been proven to be a great crisis hedge and one that is more perfectly correlated to interest rates, which are, in turn, driven by inflationary pressures and global risk," Fitz-Gerald said.
Gold will be your insurance policy when red hot markets correct or even crash. As stocks languish, gold will be the resistant backstop in your portfolio.
Fitz-Gerald said the best way to hedge for volatility in the global markets is to invest $1 in gold, either in physical bullion or gold stocks, for every $10 of your capital invested in bonds.
With this allocation, you can take advantage of gold's gains on the market downdraft, and minimize losses as the market goes back up and gold loses its safe-haven value.
Gold Investing Myth No. 2: You have to hoard physical gold in your own safe.