The OPEC meeting scheduled for tomorrow (Thursday) in Vienna, Austria is one of the oil cartel's most anticipated events in years.
The biggest decision facing the 12 member nations is whether to curb oil production in an effort to stabilize global oil prices.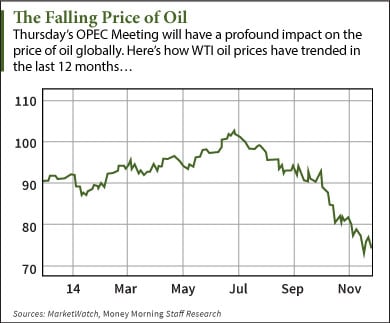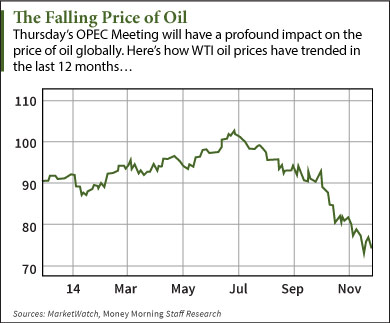 Crude oil prices have fallen precipitously since June. In the last five months, futures contracts for West Texas Intermediate (WTI) have dropped as much as 28.5%. WTI hit a low of $73.22 in mid-November and dropped more than $2 to $73.96 Tuesday in anticipation of the OPEC meeting.
Brent oil was down $1.40 to $78 per barrel. That's the global benchmark's lowest price since September 2010.
According to Reuters, several OPEC nations are calling for a significant decrease in oil production as the global supply glut grows. Libya, Venezuela, Iran, and Ecuador are leading the charge for lowered production.
Saudi Arabia, OPEC's biggest producer, reportedly has different plans. Saudi officials fear any cut in production would reduce the nation's global market share.
In fact, Saudi officials actually lowered prices in early November in an attempt to curb U.S. oil production.
The energy boom in the United States is one of the leading causes of falling oil prices. According to the U.S. Energy Information Administration (EIA), U.S. oil output reached 8.7 million barrels per day (bpd) in September. That's the country's highest output in 30 years.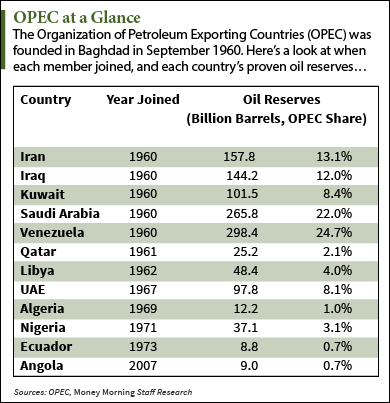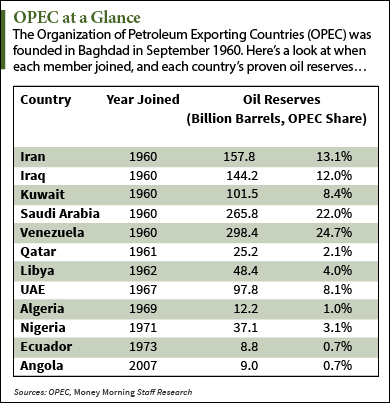 OPEC has also been producing at a high level.
The cartel has a production quota of 30 million barrels per day, but the member nations have not been following that guideline. In September, OPEC produced 30.7 million barrels per day, according to the EIA.
Many analysts agree that a 1 million barrel a day production cut from OPEC is needed to stabilize prices.
"Everybody is looking to the showdown in Vienna," Commerzbank's Head of Analysts Eugen Weinberg told Reuters. "You've got all kinds of expectations impacting on the market -- from nothing at all towards our expectation of a production cut by almost 1 million barrels per day (bpd)."
As we await Thursday's OPEC meeting, here's how different decisions will impact oil prices and oil stocks...
OPEC Meeting: What Will Move Oil Prices