The OPEC meeting scheduled for tomorrow (Thursday) in Vienna, Austria is one of the oil cartel's most anticipated events in years.
The biggest decision facing the 12 member nations is whether to curb oil production in an effort to stabilize global oil prices.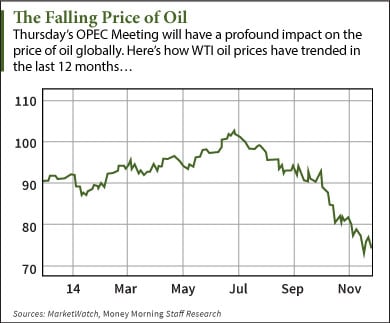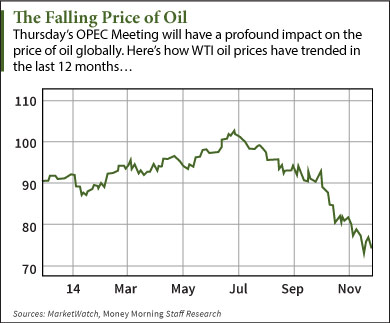 Crude oil prices have fallen precipitously since June. In the last five months, futures contracts for West Texas Intermediate (WTI) have dropped as much as 28.5%. WTI hit a low of $73.22 in mid-November and dropped more than $2 to $73.96 Tuesday in anticipation of the OPEC meeting.
Brent oil was down $1.40 to $78 per barrel. That's the global benchmark's lowest price since September 2010.
According to Reuters, several OPEC nations are calling for a significant decrease in oil production as the global supply glut grows. Libya, Venezuela, Iran, and Ecuador are leading the charge for lowered production.
Saudi Arabia, OPEC's biggest producer, reportedly has different plans. Saudi officials fear any cut in production would reduce the nation's global market share.
In fact, Saudi officials actually lowered prices in early November in an attempt to curb U.S. oil production.
The energy boom in the United States is one of the leading causes of falling oil prices. According to the U.S. Energy Information Administration (EIA), U.S. oil output reached 8.7 million barrels per day (bpd) in September. That's the country's highest output in 30 years.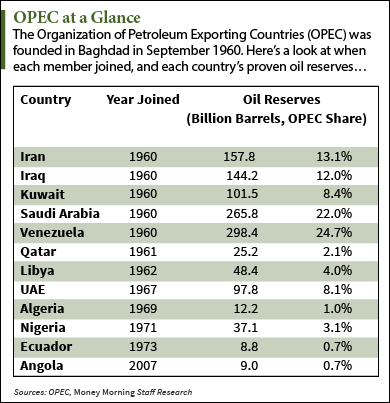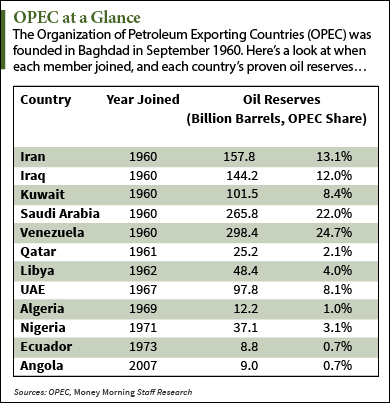 OPEC has also been producing at a high level.
The cartel has a production quota of 30 million barrels per day, but the member nations have not been following that guideline. In September, OPEC produced 30.7 million barrels per day, according to the EIA.
Many analysts agree that a 1 million barrel a day production cut from OPEC is needed to stabilize prices.
"Everybody is looking to the showdown in Vienna," Commerzbank's Head of Analysts Eugen Weinberg told Reuters. "You've got all kinds of expectations impacting on the market -- from nothing at all towards our expectation of a production cut by almost 1 million barrels per day (bpd)."
As we await Thursday's OPEC meeting, here's how different decisions will impact oil prices and oil stocks...
OPEC Meeting: What Will Move Oil Prices
What Would Raise Oil Prices: The only way oil prices will climb drastically this week is if OPEC makes a significant production cut. Merchant Commodity Fund's Chief Investment Officer Doug King told Bloomberg this month that cutting production by 1.5 million barrels could bring Brent back in the $80 to $90 range.
But because Saudi Arabia has been so dead-set against production decreases, this scenario is unlikely.
Even if OPEC calls for a major production cut, it's not a given that every country will conform. A very similar situation occurred in 2008 when oil prices had fallen 30%. OPEC declared member nations would slow production. Saudi Arabia simply ignored the OPEC order and vowed to maintain output levels.
What Would Cause Oil Prices to Fall: If OPEC maintains its high level of production, crude oil prices will continue to fall. This would also put heavy pressure on U.S. oil companies to cut their own production. Analysts at Forex.com estimate that maintaining production could send WTI oil below $70 per barrel.
If OPEC decides to enforce the 30 million barrel per day quota, oil prices would remain stable in the short term. However, simply adhering to the quota would not be enough to send prices up significantly.
The cartel could also implement an incremental reduction. This would entail different production cuts for different countries. No specifics have been released regarding this possible plan, however.
At this point, maintaining production (or a slight reduction) seems to be the most likely outcome. The Wall Street Journal reported that OPEC nations, specifically Saudi Arabia, are content to let prices fall further in hopes of slowing U.S. oil output.
"Officials from Persian Gulf countries, which can generally balance their budgets with lower prices, are concerned deep output cuts would prove self-defeating as any rise in oil prices would only encourage further U.S. shale oil production," the Journal reported.
[epom key="ddec3ef33420ef7c9964a4695c349764" redirect="" sourceid="" imported="false"]
The Bottom Line: While this will be the most watched OPEC meeting in years, it's unlikely a major decision will be made. OPEC - and Saudi officials - are as hesitant as ever to relinquish market share in the global oil market. Investors can expect the price of oil to remain around its current level unless a drastic change is made.
What to Read Now: Whenever oil prices drop, everyone always wonders how it will affect wind and solar power. But the landscape for renewable energy has changed significantly in recent years and oil prices don't have the same impact. Here's why lower oil prices won't kill the renewable energy boom...
Related Articles: