The December stock market forecast includes more record closes for the S&P 500 (47 for the year) and Dow Jones Industrial Average (31 for the year).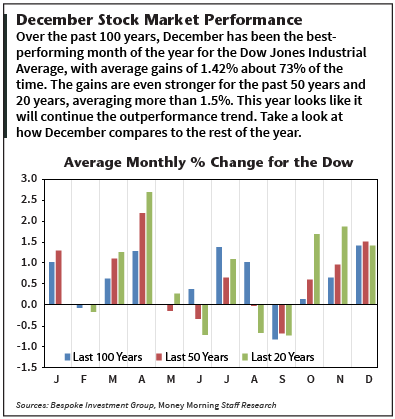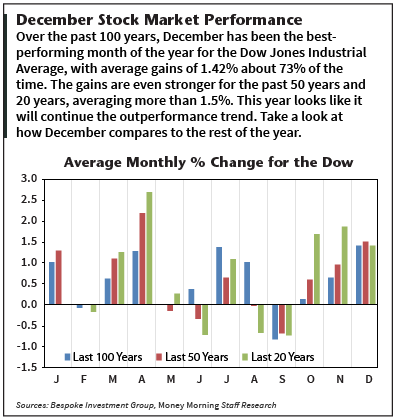 Those milestones have left investors wondering where stocks are heading as we enter the final stretch of 2014.
"With the Dow Jones Industrials and the S&P 500 indices repeatedly making new highs, chances are better-than-good that markets will rally through year-end," Money Morning Capital Wave Strategist Shah Gilani told investors Nov. 17.
In fact, Gilani sees the Dow hitting 18,000 before we say good-bye to 2014.
And a lot of the momentum behind a stock market rally right now is due to the fact that it's just that time of year…
Another December Stock Market Rally
Markets are entering what is typically the strongest time of the year. December has been the best-performing month for the DJIA over the past 100 years.
And dating back to 1990, the S&P 500 Index has averaged an annual gain of 2.3% from Thanksgiving through the end of the year, with positive results 83% of the time, according to data from Bespoke Investment Group. If that trend continues this year, and you tack a 2.3% gain onto the S&P's year-to-date gain of 12%, that would bring the broad based benchmark's 2014 return comfortably into double digit territory.
This December looks well positioned for a strong finish for a few reasons…