Dow stocks are up 7% in 2014 as the index has hit a record high 31 times so far. Its most recent high was Nov. 28.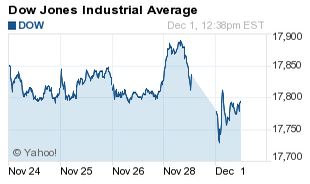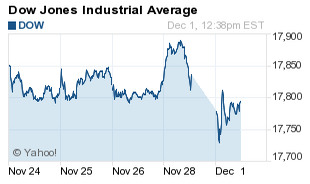 Unfortunately, not all Dow stocks were able to revel in the year's rallies. In fact, nearly one-third of the market's companies had negative returns this year.

5 Dow Stocks with the Biggest Dips in 2014
Boeing Co. (NYSE: BA) - The American multinational manufacturer of airplanes and satellites has had a rough go in 2014. In January, share prices were at $144.37; on Nov. 24, they closed at $134.55. That's a 6.8% drop. Employees and shareholders alike are concerned about new supply constraints on aircraft manufacturers, which analysts believe are contributing to the company's worth.
IBM Corp. (NYSE: IBM) - The world's largest information technology company went from $185.53 on Jan. 2 down to $162.18 as of Nov. 24. That's a whopping 13%. The company stated it does not expect to achieve its 2015 operating earnings target following weak consumer spending and poor quarterly earnings.
General Electric Co. (NYSE: GE) - This American multinational conglomerate stock on the DJIA is down almost 6% year to date, closing at $27.00 Nov. 24. The company is currently in a transition period, having recently reached an agreement to sell its entire appliances unit to Electrolux. Additionally, investors don't seem overly excited about GE's recent acquisition of Alstom's power and grid businesses.
If you aren't a Money Morning Member, sign up now for free to get our dividend investing report with three superior picks to help grow your income: The Best Dividend Strategy for Building Fortune in a Low-Yield Era
Chevron Corp. (NYSE: CVX) - The American multinational energy corporation is down over 6% year to date, closing at $117.59. The recent slump in oil affected investment-grade energy companies like Chevron, contributing to their poor third-quarter earnings.
United Technologies Corp. (NYSE: UTX) - This manufacturing corporation listed on the DJIA experienced a loss of over 3% year to date. The biggest drop came after a peak at $120.09 on June 29 to $99.17 on Oct. 15. At close Nov. 24, the stock had regained about 10% of its share-price loss to hit $108.79. Perhaps it's slowly on the up and up; still, this small upsurge in gains is pocket change compared to last year's 40% upward run.
There are lots of reasons why stocks are headed higher, but one in particular is telling. It's really a simple one, yet too many people think nothing of it. According to Money Morning's Capital Wave Strategist Shah Gilani, that's a big mistake. Click here to find out more about this overlooked reason and how to profit from it.