Even though the price of gold is on track for a 3% gain today (Monday) at $1,217 an ounce, the yellow metal is far off its last peak of $1,340.25 on July 10. And today's surge will only put gold prices near a breakeven level for 2014 – the metal traded at $1,225 an ounce in early January.
Still, despite gold's struggle to gain ground in global markets this year, demand for physical gold in Asia remains strong.
Asia accounts for roughly two-thirds of global gold demand. China and India are the world's biggest consumers of the yellow metal. The two have vied with each other for the top spot for years – a battle that underpins gold prices.
China took the crown from India in 2011 after China saw a 60% surge in jewelry demand in Q3 that year. The two countries traded back and forth in 2012. China solidly held the title in 2013.
But on Nov. 13, India regained the top spot.
Here's what vaulted India back into the lead – and how this change will affect the price of gold into 2015…
India's Gold Demand Surge
According to the World Gold Council, Indian jewelry demand popped nearly 60% in the third quarter this year – a trend Money Morning Resource Specialist Peter Krauth predicted back in June. The country bought 225.1 tons of gold jewelry, coins, and bars in Q3.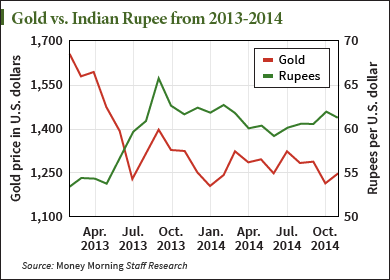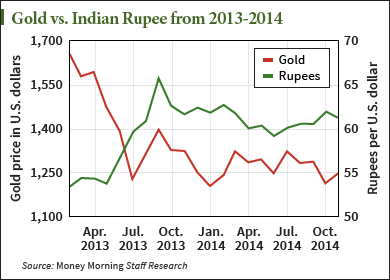 Meanwhile, Chinese buying slowed, with its jewelry demand down by some 39%. The country bought 182.7 tons of jewelry, coins, and bars in Q3.
With gold prices down more than 8% in rupees in the past four months, Indian buyers have flocked to the metal, buying 39% more. The Diwali festival and the wedding season also fueled the surge.
Impressive Q3 Indian demand numbers don't even include the vast amount of gold buying that's unaccounted for in the country right now…
"Hidden" Gold Demand
Just on Nov. 28, India scrapped its highly restrictive gold import laws.
Before that (and for all of Q3), these taxes and duties caused a massive wave of gold smuggling over the last few years. An estimated 200 tons crossed its borders in 2013 alone.
"It is now beyond debate that import restrictions have had little impact on the demand for gold and yet have strengthened the unauthorized supply channels," said P.R. Somasundaram, India's Managing Director at the World Gold Council (WGC).
Limited worldwide supplies have also fueled demand and smuggling. Total supply fell by 7% in Q3 2013, according to the WGC. Mining output is being limited by low gold prices. Gold recycling also hit a seven-year low – sellers are less incentivized to recycle when the price of gold is low.
All these factors equal a major buying signal for gold investors…