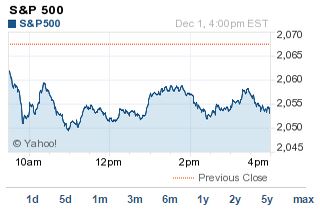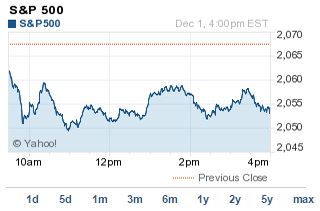 U.S. stock markets retreated Monday in a broad sell-off, fueled by new concerns about weaknesses in global manufacturing, sluggish U.S. retail sales, and an embattled Japanese economy.
The S&P 500 had its biggest one-day drop in more than five weeks. The Nasdaq suffered its steepest decline in seven weeks. The S&P 500 Volatility Index (VIX), the market's fear gauge, jumped 7.2% on the day.
Today's Scorecard:
Dow: 17,776.80. -51.44, -0.29%      
S&P 500: 2,053.44, -14.12, -0.68%             
Nasdaq: 4,727.35, -64.28, -1.34%
What Moved the Markets Today: The global retreat of oil prices halted during today's trading session. Oil prices had their best one-day gain since August 2012, with West Texas Intermediate gaining nearly 5%. Brent crude jumped more than 4%, although the broader energy sector was down 0.4% on the day.
However, markets also contended with a rash of weak retail reports from the Thanksgiving holiday weekend and a number of global manufacturing indices that signaled weakening Asian and European growth in November. Gold prices jumped above $1,200 for the first time since October in the wake of a credit downgrade of Japan's economy by ratings agency Moody's.
Now check out the day's most important market notes:
Now our experts share some of the most important investment moves to make based on today's market trading – for Money Morning Members only:
This Play Could Double Again – But There's Much More to It: Money Morning Chief Investment Strategist Keith Fitz-Gerald's recent small-cap stock pick has already doubled. And this human augmentation company is still a great buy – especially if you understand how to use Keith's favorite trading tactic. Here's how to put the power of the "free trade" to work for you to collect even bigger
How We'll Play the 2014 Year-End Rally: Stocks are headed higher through year end for many reasons, but one in particular is telling. It's really simple, yet too many people have overlooked it. Indeed, most wouldn't even give it enough thought. And that would be a big mistake. As Money Morning's Shah Gilani explains, if you understand that one compelling reason, you can pick some winners – and pocket big profits – yourself.
How Google Will Dominate the Future: Today Tech Specialist Michael A. Robinson reveals why Google is such an intriguing tech investment with enormous upside. This industry leader has somehow combined Warren Buffett's business genius with the futurist brain of Ray Kurzweil, Google's director of engineering. And there's nothing but profit ahead for investors…