Our new dividend-paying stocks list for this week includes 25 companies that have just hiked their payouts or delivered a special dividend for investors.
Investing in dividend stocks remains a popular choice as we near 2015. We've now hit six years of near-zero interest rates and an aging bull market.
In addition to providing a steady stream of income, stocks that pay dividends - and dividend growers in particular - consistently provide better returns than nonpayers.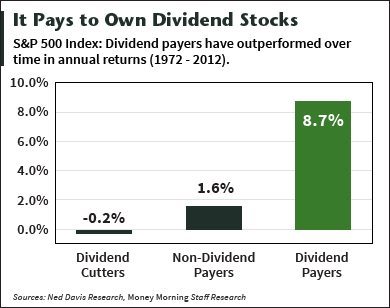 Dividend payers have outperformed non-payers by more than 7% in returns. From 1972 - 2012, stocks that do not pay dividends returned 1.6%, while stocks that do returned 8.7%, according to Ned Davis Research.
Last week saw no shortage of dividend improvements, despite the holiday. Twenty companies hiked payouts, and five declared special dividends. Two announced stock dividends.
Following are 25 notable dividend enrichments from the week ending Nov. 28.
Dividend-Paying Stocks That Just Hiked Payouts
Aegean Marine Petroleum Network Inc. (NYSE: ANW) increased its quarterly dividend 100% to $0.02 per share for a 0.82% yield.
Aetna Inc. (NYSE: AET) upped its quarterly payout 11.1% to $0.25 per share for a 1.15% yield. The insurance giant also authorized the repurchase of up to an additional $1 billion of its stock.
Becton, Dickinson and Co. (NYSE: BDX) boosted its quarterly dividend 10% to $0.60 a share for a 1.17% yield. Money Morning Chief Investment Strategist Keith Fitz-Gerald says Becton Dickinson's products are vital in any global pandemic (like Ebola), and BDX shares offer long-term opportunity.
Capital City Bank Group Inc. (Nasdaq: CCBG) upped its quarterly dividend 50% to $0.03 a share for a 0.83% yield.
Cathay General Bancorp (Nasdaq: CATY) raised its quarterly dividend $0.03 to $0.10 a share for a 1.58% yield.
Cypress Semiconductor Corp. (Nasdaq: CY) announced a special $0.11 per share dividend payable Jan. 15 to shareholders of record Dec. 26.
Flowers Foods Inc. (NYSE: FLO) fattened its quarterly payout 10.4% to $0.1325 a share for a 2.72% yield.
If you aren't a Money Morning Member, sign up now for free to see 18 more dividend-paying stocks that just raised payouts. You'll also get this dividend investing report with three superior picks to help grow your income: The Best Dividend Strategy for Building Fortune in a Low-Yield Era