Talk about putting your foot in your mouth. This would be funny if it wasn't sickening.
During congressional questioning on Nov. 21, Sen. Elizabeth Warren (D-Mass.) commented that the Fed's job is like that of "a cop on the beat."
And that's when New York Federal Reserve President William Dudley inserted a foot in his big mouth.
He responded, "I don't think our primary purpose as supervisors is a cop on the beat, it's more like a fire warden; make sure that the institution is well run so that, you know, it's not going to catch on fire and burn down. And managed in a way that if the institution is stressed that it doesn't collapse and threaten the rest of the financial system."
In other words, there's no "policing" going on.
Dudley said it – not me.
But today I'll share with you what I do have to say – and I'll show how the close relations between Wall Street and Washington could lead to yet another financial conflagration…
The Fed and Big Banks: Too Close for Comfort
According to Dudley, then, the Fed's job – its reason for existence – is to protect banks from burning themselves down when their greedy schemes ignite depositors' ample piles of kindling.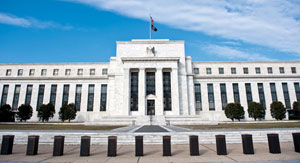 The New York Fed president was testifying before the Senate Banking Committee's Subcommittee on Financial Institutions and Consumer Protection on the subject of the Fed being too close to the banks it's supposed to police.
Now we know why banks and the Fed are so close. When the banks' crack pipes break from excessive heat, the Fed is there with liquidity beer bongs to dampen their highs so they don't OD and send the whole economy on a bad trip.
And here's even more evidence that lawmakers failed to jam the revolving door between the big banks and their so-called regulatory agencies following the 2007-2008 financial crisis: Dudley is the former chief economist of Goldman Sachs Group Inc. (NYSE: GS).
And after that statement, he wasn't done – and what came next was even worse.
Join the conversation. Click here to jump to comments…
About the Author
Shah Gilani is the Event Trading Specialist for Money Map Press. In Zenith Trading Circle Shah reveals the worst companies in the markets - right from his coveted Bankruptcy Almanac - and how readers can trade them over and over again for huge gains.Shah is also the proud founding editor of The Money Zone, where after eight years of development and 11 years of backtesting he has found the edge over stocks, giving his members the opportunity to rake in potential double, triple, or even quadruple-digit profits weekly with just a few quick steps. He also writes our most talked-about publication, Wall Street Insights & Indictments, where he reveals how Wall Street's high-stakes game is really played.