Last week's OPEC meeting in Vienna, Austria, was billed as the most important gathering of the cartel in years, with huge implications for crude oil prices.
The meeting's importance was felt almost immediately. After OPEC nations announced they would not cut oil production, oil prices plummeted.
WTI crude oil hit a low of $63.72 per barrel this week. That's a drop of 37.8% since June. Brent oil tanked too, hitting a five-year low after the meeting. The global benchmark traded below $72 per barrel today (Tuesday). That's about 40% lower than its June price.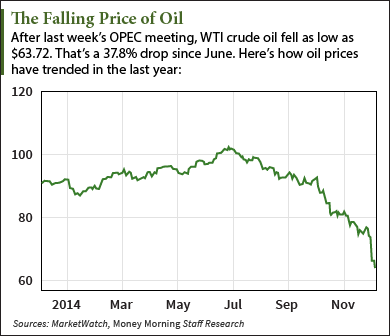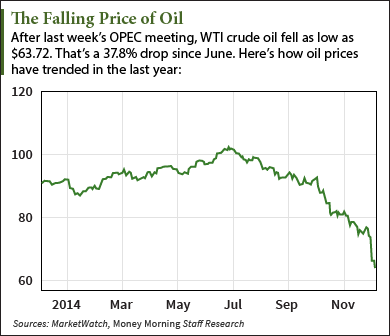 As Money Morning pointed out before the meeting, maintaining production was the most likely outcome of the OPEC meeting.
Not all of the OPEC members want production to remain high, however. Several countries like Venezuela and Iran have called for production cuts. But Saudi Arabia, the largest OPEC exporter, refuses to budge. The Saudis are content to let prices fall much lower in an attempt to curb U.S. shale oil production.
But according to Money Morning's Global Energy Strategist Dr. Kent Moors, this is a losing strategy for the Saudis. In fact, Moors is in Dubai this week stressing this point to some of the world's top oil policy makers.
"With all the attention being accorded to U.S. shale and tight oil, the argument that American production is responsible for the pricing problem is a bit disingenuous," Moors said. "As I've recently noted, the impact of shale at the moment is limited to its effect on American imports."
"The export of crude from the U.S. is still prohibited," he continued. "However, U.S. reliance on OPEC imports has been waning for years. Given the new-found economic impact of oil production back home, I quickly pointed out that the OPEC decision will likely give the new Congress added impetus to liberalize the very exports the cartel fears."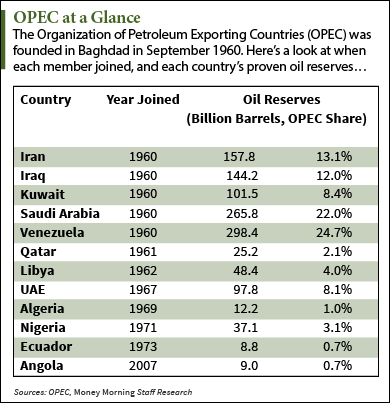 Therefore, U.S. oil producers are unlikely to curb production in order to raise prices. It's an oil price war in which everyone involved refuses to blink.
And because of that, investors should not expect a major rally in oil prices any time soon. Until someone cuts production levels, the price of oil will remain low.
"The physical crude oil market is well supplied and that oversupply will last into the second quarter of next year," Petromatrix's Oil Analyst Olivier Jakob told Reuters. "The market is trying to find some equilibrium level."
For investors wondering what to do with their oil stocks, here's the strategy that Moors recommends now...
How to Play Oil Stocks Now