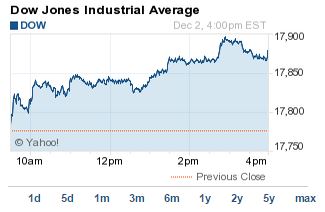 The Dow Jones jumped more than 100 points Tuesday to close at a new record high, fueled by a soaring dollar, strong auto sales, and big gains in energy stocks. The S&P 500 Volatility Index (VIX), the market's fear gauge, fell more than 9%.
Today's Scorecard
Dow: 17,879.55, +102.75, +0.58%  
S&P 500: 2,066.55, +13.11, +0.64%           
Nasdaq: 4,755.81, +28.46, +0.60%
What Moved the Markets Today: The U.S. dollar is at its highest level since March 2009. The greenback is now at a 28-month high against the euro and a seven-year high against the Japanese yen. Stocks jumped again today as the auto sector continues to show signs of significant recovery and energy shares show some resiliency to OPEC's production decision. Shares of Exxon Mobil Corp. (NYSE: XOM) and Chevron Corp. (NYSE: CVX) were both up about 2% in the day.
Now check out the day's most important market notes:
Now our experts share some of the most important investment moves to make based on today's market trading – for Money Morning Members only:
One Stock That Will Profit from a New, Breakthrough Medical Direction: Modern medicine, for all of its sophisticated drugs, complex gadgets, and amazing surgical procedures, rarely cures anything. It treats. It manages. It postpones the inevitable. But return a patient to normal, optimal health? Rarely. So when an innovation comes along that can effect a complete and permanent remission of disease or restore damaged organs to a pristine state, it should cause your keenest investing instincts to perk up and pay attention…
How We'll Play the 2014 Year-End Rally: Stocks are headed higher through year end for many reasons, but one in particular is telling. It's really simple, yet too many people have overlooked it. Indeed, most wouldn't even give it enough thought. And that would be a big mistake. As Money Morning's Shah Gilani explains, if you understand that one compelling reason, you can pick some winners – and pocket big profits – yourself.
How Google Will Dominate the Future: Today Tech Specialist Michael A. Robinson reveals why Google is such an intriguing tech investment with enormous upside. This industry leader has somehow combined Warren Buffett's business genius with the futurist brain of Ray Kurzweil, Google's director of engineering. And there's nothing but profit ahead for investors…