Alibaba Group Holding Ltd. (NYSE: BABA) stock is up 62% since its IPO. We've talked about investing in Alibaba since the start of 2014 – eight months prior to its IPO – and we still like this stock.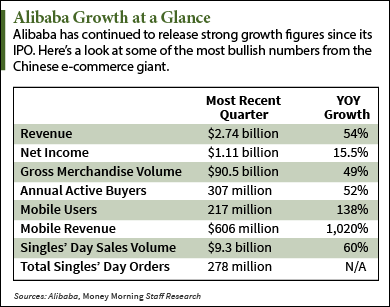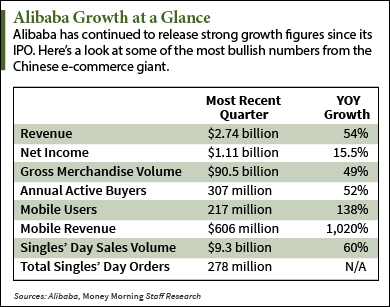 The company continues to show strong growth in revenue, profits, and users. Just last quarter Alibaba reported a 54% revenue increase to $2.74 billion. Its total user base also expanded 52% to 307 million. That's nearly the size of the entire U.S. population.
Right now, BABA trades at $100 per share with a market cap of $273 billion. Money Morning's Executive Editor Bill Patalon believes Alibaba will be one of the world's first $1 trillion companies. That would make BABA stock worth roughly $400.
There is one big matter, however, that has deterred some investors from buying Alibaba shares, and that's what we want to address today. It's something that only applies to Chinese companies, so U.S. investors don't encounter it frequently…
The issue of concern is Alibaba's unorthodox corporate structure.
In fact, the way Alibaba is run is much different from the other e-commerce companies on the market…
The Deal with Alibaba's Corporate Structure
The Chinese government does not let foreign investors own stock in certain types of companies. Internet firms like Alibaba are one example.
However, Alibaba gets around this law through a loophole called the Variable Interest Entity (VIE). Through a VIE, the Chinese firm creates a holding company that is linked to the original company through a series of complicated legal contracts.
These holding companies are frequently headquartered in tax-friendly countries. Alibaba Group Holding is incorporated in the Cayman Islands.
Because of the VIE structure, investors who buy BABA shares do not receive any voting rights. For many the lack of power is tolerable, because they still get a piece of Alibaba's profits – which hit $494 million last quarter.
And some investors see this as a risk they want to avoid.
"Alibaba's legal structure is extremely complicated and opaque," said Money Morning Special Contributor Michael Lewitt. "This is due to China's legal restrictions on foreign ownership in certain types of telecommunications services including Internet content providers. In other words, China controls the Internet in order to censor it. Alibaba uses the VIE structure to own its Internet content licenses but is ultimately still subject to the control of the Chinese government."
The structure may seem odd to Americans, but it's common for Chinese stocks. Baidu Inc. (Nasdaq ADR: BIDU) and JD.com Inc. (Nasdaq ADR: JD) operate the same way. Investors may pass up voting rights in those two companies, but they've banked gains of 31% and 19% this year with those stocks.
But it isn't just the VIE that's foreign to U.S. investors. Alibaba's management structure is different as well.
Alibaba is managed by a partnership committee that includes Jack Ma and Joe Tsai, among others. Each partner receives one vote, but the number of members is not fixed. The size of the group changes when someone retires, joins, or leaves the partnership. This committee elects partners and allocates profits after receiving approval from the board of directors.
While all of this may seem peculiar, Lewitt said it's one of the biggest reasons for Alibaba's success.
"The most exciting aspects of Alibaba are inextricably linked to the biggest risks related to an investment in BABA," Lewitt said. "The company has been able to grow due to the flexibility of its corporate structure as well as its presence in the fastest-growing economy in the world."
That's why Alibaba stock is still a strong buy. In fact, we see Alibaba stock going much higher from here…
Where BABA Stock Is Headed Now