Switzerland held a historic vote on Sunday, Nov. 30. The small alpine nation asked citizens if the central bank should hold a minimum 20% of its assets in gold, not be allowed to sell it off, and store it all at home.
The initiative failed after some strong campaigning, with only 22% voting for and 78% voting against.
A "yes" vote would have been particularly bullish for gold. But despite the "no" vote, gold prices rose anyway.
Here's a look at the reasons gold is higher after the Swiss vote - and why we are bullish on gold into 2015...
How Gold Prices Moved After Swiss Vote
The Swiss gold referendum would have forced the Swiss National Bank (SNB) to buy billions in gold over the next five years.
No public debate on the issue took place throughout October. But after a late October poll showed 44% in favor versus 39% against, a large and concerted effort to discredit the initiative began.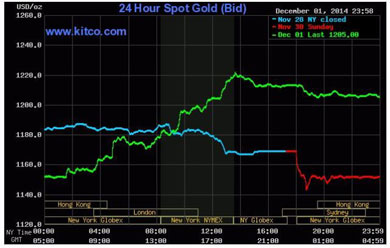 The finance minister, political leaders, and even the president of the SNB (who rarely appears in public) all came out against the proposal in an unprecedented multimedia blitz.
They argued the conditions of the initiative would tie the SNB's hands, constraining its ability to maintain its current peg to the euro and to weaken the franc against other currencies should it be deemed necessary.
In the last few trading days leading up to the Nov. 30 vote, gold began to sell off from $1,200 nearly all the way down to $1,140.
Then after the vote, on Monday, Dec. 1, gold roared back. The gold price peaked at $1,222.90 intraday, hitting a five-week high.
To be fair, not all of this was due to gold's oversold condition leading up to the Swiss "no" vote, which the market interpreted as meaning no sudden surge to buy gold in large quantities.
Other factors also helped drive gold prices higher.
Join the conversation. Click here to jump to comments…
About the Author
Peter Krauth is the Resource Specialist for Money Map Press and has contributed some of the most popular and highly regarded investing articles on Money Morning. Peter is headquartered in resource-rich Canada, but he travels around the world to dig up the very best profit opportunity, whether it's in gold, silver, oil, coal, or even potash.