Stocks to watch today, Dec. 4, 2014: Earnings season has all but ended. Just six companies in the S&P 500 Index have yet to post results.
The quarter has been surprisingly robust, with earnings growth projected to come in at 9.1%, according to S&P Capital IQ.
Thursday brings results from some key industry players, including a beleaguered bookseller, an iconic yet struggling department store chain, a leading dollar store company, and more.
Following are seven hot stocks to watch today.
7 Stocks to Watch Thursday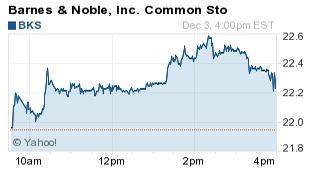 Stocks to Watch No. 1: Barnes and Noble Inc. (NYSE: BKS) reports fiscal Q3 results before today's opening bell. Expectations are for earnings per share (EPS) of $0.30, double the $0.15 reported in the same quarter a year ago. Whisper numbers are for EPS of $0.31. The bookseller has been losing cash for eight quarters. BKS posted a loss in six of those quarters, bringing the company's loss per share over the timespan to a whopping $3.46. Like most local bookstores, BKS has been pressured by the explosion of e-books and Amazon.com Inc. (Nasdaq: AMZN). Still, things appear to be improving at BKS thanks to new initiatives. The period reported Thursday is typically BKS's second best quarter of the year, only bested by the holiday period. Shares have nearly doubled near to date, up 48.49% since the start of the 2014.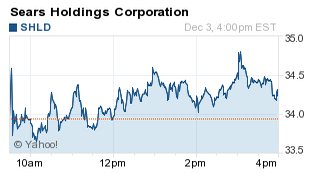 Stocks to Watch No. 2: Sears Holdings Corp. (Nasdaq: SHLD) will post Q3 results before Thursday's market open. Wall Street expects the beleaguered retailer to post a whopping $3.31 per share loss. In attempts to stay afloat, Sears has been selling and spinning off assets to raise cash amid escalating losses. In Q2, the ailing retailer reported its ninth consecutive quarterly loss on a continuing slump in sales. That sparked fresh concerns about the future of the legendary company, once the go-to store for American shoppers. The struggling multinational merchant, which runs Sears and Kmart stores, reported a hefty loss of $5.39 per share, or $573 million, for the period ended Aug. 2. That compares with a loss of $1.83 a share, or $194 million, in the same period a year ago. Revenue fell 9.7% to $8 billion from $8.87 billion. In addition to the 130 store closures already announced, Sears said it's considering closing more stores this year and converting 200 to 300 into a REIT. The mean analyst recommendation on SHLD is "Sell," according to Zacks.
Money Morning Members - keep reading for the next five stocks to watch today.