Penny Stock News, Dec. 5, 2014: Shares of drug companies developing Ebola treatments - so-called "Ebola stocks" - have at turns soared and tanked over the past couple months amid speculation and hype.
But other companies not chasing after a treatment for the disease have also attracted interest amid the worst Ebola outbreak in history.
One such company is Alpha Pro Tech Ltd. (NYSEMKT: APT).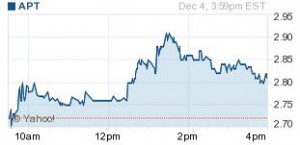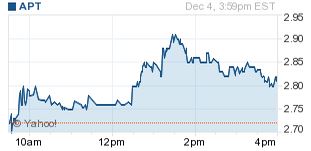 Based in Ontario, Canada, this penny stock is a leading developer, manufacturer, and marketer of disposable protective apparel, building supply products, and infection control products in the United States and internationally.
APT made penny stock news in October at the height of the Ebola scare. Shares skyrocketed to an all-time high of $10.73 on meteoric volume when demand for Ebola protective gear surged.
The stock price has since pulled back, but the company shows promise.
Alpha Pro recently reported a $1 million increase over historical levels in new orders for its products in October and provided an improved outlook due to interest in its protective gear.
The company has ramped up production levels to fulfill a flurry of customer orders. It is also looking at a number of business prospects.
Exploding demand for hazmat suits and masks for protection against Ebola in the United States is expected to create backlogs through at least January.
Worries have grown that hospitals in the United States and elsewhere are not properly equipped to handle Ebola and protect employees.
The U.S. government recently put out a bid for 160,000 hazmat suits, stoking fears the federal government anticipates a rapid spread of the virus.
Moreover, U.S. health officials recently said the frenzied demand for hazmat suits and masks has now expanded from healthcare workers to firefighters, rescue teams, and similar professionals who may come in contact with an Ebola patient if a new case is diagnosed in the country.
There is no vaccine yet, and no date when one is expected. There is also no timeframe for how long the current epidemic will last.
But Alpha Pro doesn't intend to fade away once Ebola is finally eradicated...