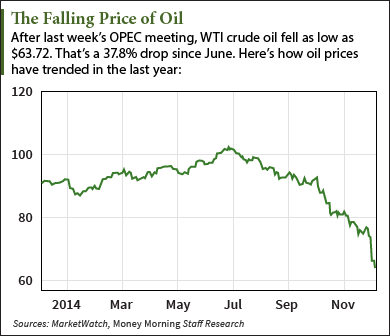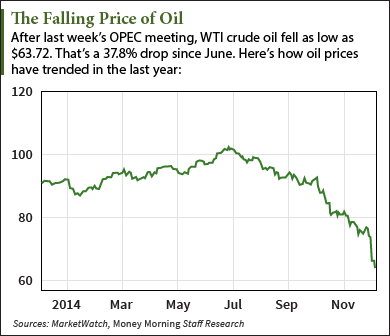 Bakken Shale stocks have been hit the hardest as crude oil prices decline - with one down as much as 57% in the last three months.
West Texas Intermediate (WTI) has dropped 38% since June. That price slump has caused oil stocks like Exxon Mobil Corp. (NYSE: XOM) to dip 10% over the same period.
But Bakken Shale stocks have suffered steeper declines:
Continental Resources Inc. (NYSE: CLR) operates in both the North Dakota and Montana portions of the Bakken. As of 2012, CLR owned more than 1.1 million acres of land in the Bakken territory. CLR is down 52% since September.
Whiting Petroleum Corp. (NYSE: WLL) has one of the largest acreage positions in the Bakken and is the second-largest oil producer in North Dakota. Its stock is down 57% since September.
EOG Resources Inc. (NYSE: EOG) controlled approximately 90,000 acres in the Bakken area at the start of 2014. In the past three months it's slipped 14%.
And these Bakken stocks will continue to underperform into 2015. You see, the low oil price only exacerbates three major issues that Bakken Shale stocks already face...
Bakken Shale Stocks Issue No. 1: The Cost of Fracking
Fracking has been the main driver behind the U.S. oil production boom, but it's also very expensive.
Because getting the oil out of the ground this way is so pricey, it raises the breakeven point - the point at which oil companies start to lose money for drilling oil. According to Bloomberg, Bakken Shale oil has a break-even point of $73.72 per barrel.
Fracking isn't exclusive to the Bakken. In fact, fracking companies across the country are getting crushed because of declining oil prices.
But other U.S. shale formations like the Eagle Ford in Texas have much lower break-even points. They remain profitable all the way down to $50 per barrel, due to lower average transportation and drilling costs.
"Projects like those in the Bakken make perfect sense when oil prices are above $100 a barrel," said Money Morning's Global Energy Strategist Dr. Kent Moors, who has more than 35 years of experience in oil and gas policy. "At those levels, economies of scale take over and improve profit margins. The higher production volumes offset the higher operating costs."
That has not been the case in 2014, of course, with oil down around $65 a barrel.
And there are two other factors that weigh on companies operating in the Bakken...