There are 11 new IPOs this week, expected to raise a combined $2.7 billion.
This has been the biggest year for IPOs in the last decade. So far, initial public offerings in 2014 have raised a total $82.1 billion. The next closest total over the last 10 years was $54.9 billion in 2013. This year's total is already 50% higher than last year's, with two-and-a-half weeks to go.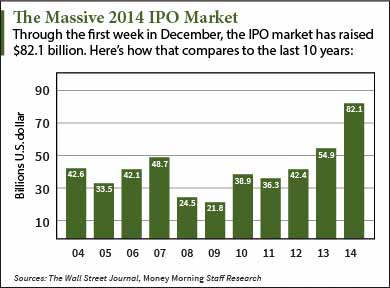 Here's a look at this week's biggest deals, plus the best ways for investors to profit from 2014's massive IPO market…
11 New IPOs to Watch this Week
Lending Club Corp. (NYSE: LC) is the largest of current upcoming IPOs as the company looks to raise $808 million. Lending Club is an online company that provides personal and small business loans. LC is offering 57.7 million shares at a $12 to $14 range. There's reportedly strong investor interest as LC raised the initial $10 to $12 price range, according to analysts at Renaissance Capital, a manager of IPO-focused ETFs. In the last 12 months, LC had revenue of $177 million. Following the initial public offering, Lending Club is expected to have a market cap of roughly $5.7 billion. LC stock will make its debut on the New York Stock Exchange Thursday, Dec. 11.
Polar Star Realty Trust Inc. (NYSE: PRST) is a real estate investment trust (REIT) that owns offices and industrial property in Norway and Sweden. PRST plans to raise $500 million this week and is offering 43.5 million shares at a $10 to $13 range. Last year, PRST reported revenue of $120 million. The company should have a market value of roughly $800 million after the deal. No official date has been set for PRST's debut, but Renaissance Capital analysts expect the deal to take place this week.
PRST joins a crowded list of recent REIT IPOs. Last month, Paramount Group Inc. (NYSE: PGRE) and Store Capital Corp. (NYSE: STOR) both held IPOs, and were the two largest REITs to debut in 2014. Those stocks are up 5.2% and 9.7% since their debuts.
REITs are popular because they're required by law to provide high dividend yields to shareholders. Typically, Money Morning experts advise against buying into IPOs because of the volatility that accompanies them. That's why our experts recommend a different REIT to buy now. It offers long-term profit potential and strong dividends.
Money Morning Members: Continue reading for the rest of this week's new IPOs. For those new to Money Morning, sign up to keep reading – it's completely free…