A strong U.S. dollar explains why silver prices are down 1.5% this past week.
The spot price of silver closed Friday at $16.285 an ounce, down from $16.54 going into Thanksgiving.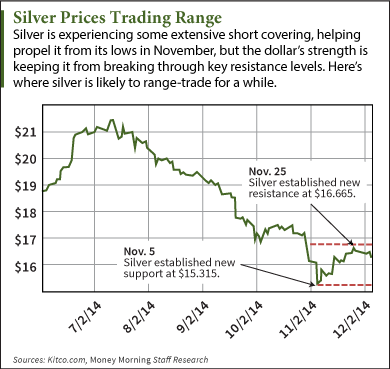 Investors move out of precious metal investments and back to more traditional assets as the dollar rises.
The U.S. dollar has gained strength as massive money printing around the globe has hit foreign currencies – specifically the euro and the yen.
The Bank of Japan announced Oct. 31 it will up annual bond-buying by 10 trillion yen ($82.8 billion). And while European Central Bank President Mario Draghi hasn't confirmed an ECB quantitative easing to reverse Eurozone disinflation, the calls for it are louder. Sooner or later, Draghi will give in and QE will become a reality in Europe as well.
Now there's a lot of downward pressure on the euro and the yen as short sellers look to profit off these currencies' downfalls. This pushes up the dollar even more.
The strong U.S. dollar is now silver's biggest headwind. This comes just as bearish sentiment has retreated a bit in the futures market…
Short Covering Fails to Propel Silver
In late October, speculators held a record high number of short positions – 51,771 short contracts representing 258.6 million ounces of silver. Speculators have shed 22,781 contracts, or about 114 million ounces.
Short-side speculation has obviously fallen somewhat significantly. But silver prices haven't really been able to break through new short-term resistance levels around $16.67, established in late November.
At the moment it looks as if bearish sentiment is waning, but the dollar's strength has kept silver from making the big speculator-induced gains silver saw this summer. Silver rose almost 14% from summer lows when short sellers exited the market en masse from early June to mid-July.
This hasn't happened in this latest round of short covering.