A falling yen and euro are creating big profit opportunities for currencies in 2015.
The U.S. dollar has gained about 12% on the yen this year, with the USD/JPY currency pair trading above 120 for the first time since July 2007. The euro has fallen about 12% since peaking at $1.3934 in March. It hasn't touched off these kinds of lows since August 2012.
Both Japan and the Eurozone are on the edge of a deflationary spiral. They want to see their currencies devalued in global forex markets. This would have the one-two punch of boosting export growth and helping flagging domestic demand.
Both currencies could bounce in the short-term, but in the long-term there's still a pretty big floor for losses.
But how far?
Here's where both are headed, plus how you can bank profits on this trend...
Currency Forecast: The Euro in 2015
European Central Bank President Mario Draghi held a press conference Dec. 4 where he was expected to shed light on potential ECB QE. He largely punted any decision to 2015.
But that doesn't change the sentiment of traders. They still see QE as a matter of 'when', not 'if'. And in the meantime, they're going to keep pushing down the euro as they wait for QE-induced inflation.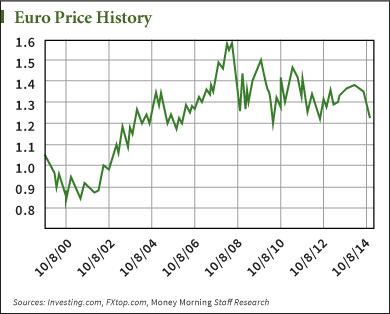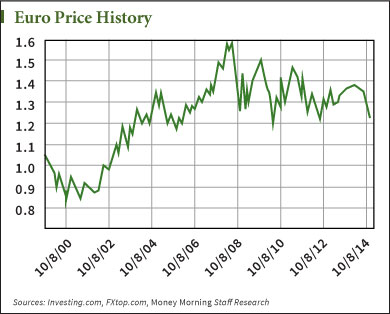 "The ECB is certainly trying their best to keep this thing heading down," Money Morning Technical Trading Strategist D.R. Barton. "They really want to be able to pick up their export businesses in several countries."
The euro established a key support level in July 2013 at $1.2781. From then it bounced between that and a resistance near $1.40 for the next year.
But on Sept. 24, it broached that support level and continued to fall. And it never really made a move back to its $1.3934 resistance established in March.
"We've basically been riding below big moving averages since the summer and it really never peaked through the 50-day in the summer," Barton said of the euro. "We haven't broken any key resistance levels to the upside in a long time."
This shows that technical traders are unfazed. They are more than willing to see the currency keep falling.
Barton said the euro may be able to fall as low as summer 2012 support levels of 1.206. There's even a good chance it will test the summer 2010 lows around $1.19.
Falling below $1.19 will likely be tough. The euro hasn't established any support levels below that since 2006.
But the euro is still hovering around $1.23. And over the last couple months since the stimulus talk has heated up, it's only been testing support on the downside without ever moving toward resistance.
That means you're wise to enter a short trade on the euro. You can do this by either trading the currency pairs outright, or buying the ProShares UltraShort Euro ETF (NYSE Arca: EUO), an exchange-traded fund that aims to generate twice the inverse daily returns of the dollar price of the euro.
The yen is a similar case. But its momentum is taking it even further...