The U.S. stock market suffered broad declines Wednesday as global energy prices continue to crater. In fact, crude prices are approaching a historic bear-market level, with oil dropping 45.1% since September of 2013.
Energy stocks slumped yet again as oil prices hit a five-year-low. Exxon Mobile Corp. (NYSE: XOM) was one of the day's worst performers on the S&P 500, falling nearly 3%. Shares of multinational Chevron Corp. (NYSE: CVX) slipped 2%.
The VIX, the market's volatility gauge, soared 24.51% on the day.
Today's Scorecard: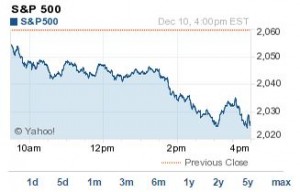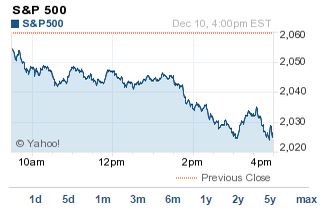 Dow: 17,533.18, -268.05, -1.51%
S&P 500: 2,026.14, -33.68, -1.64%
Nasdaq: 4,684.03, -82.44, -1.73%
What Moved the Markets Today: The markets slumped on renewed global concerns about oversupply in the oil markets. Energy Information Administration crude inventories registered higher than analysts expected this morning, with 1.5 million new barrels added to U.S. storage last week. Analysts at Bank of America Corp. (NYSE: BAC) said today that the political infrastructure of OPEC could soon collapse, oil will fall to $50 per barrel, and weak producers will be shaken out of the international market. The energy sector is the worst-performing component of the S&P 500 on the year, falling more than 15%. However, the decline could serve as a $1 trillion stimulus for Americans who have endured years of high gasoline prices at the pump. Some energy economists are projecting that a gallon of gasoline could fall below $2 in states along the Gulf of Mexico that are proximate to refineries and impose lower energy taxes.
Now check out the day's most important market notes:
Now our experts share some of the most important investment moves to make based on today's market trading – for Money Morning Members only:
How We'll Profit from Europe's Secret "Plan B": During the depths of the European sovereign crisis, when Greece was inches from exiting the zone, others chose to not sit idly by. Instead, two member nations were surreptitiously preparing for a possible Eurozone breakup. Even more fascinating is what came next, as it appears preparations are still in active mode. Other investors will wish they knew as much as you…
This Country's Huge "Pricing Error" Will Send These Shares Soaring: The Saudis are very frustrated about losing control over pricing power they've held for decades. It's annoying them to no end, in fact. So, they're fighting back the only way they know how to shift the balance back in their favor – by starting a price war with the United States. But Money Morning Chief Investment Strategist Keith Fitz-Gerald says they've made the biggest strategic "pricing error" in the kingdom's history. And in doing so, they've actually cleared the way for America's shale energy boom and opened up a killer opportunity for one company in particular.
One Stock That Will Profit from a New, Breakthrough Medical Direction: Modern medicine, for all of its sophisticated drugs, complex gadgets, and amazing surgical procedures, rarely cures anything. It treats. It manages. It postpones the inevitable. But return a patient to normal, optimal health? Rarely. So when an innovation comes along that can effect a complete and permanent remission of disease or restore damaged organs to a pristine state, it should cause your keenest investing instincts to perk up and pay attention…