U.S. retail sales in November grew at the quickest clip in eight months as shoppers shelled out liberally for everything from clothes to cars.
Retail sales rose 0.7% last month, according to the U.S. Commerce Department retail sales report released today (Thursday). That was up from 0.5% in October and better than consensus estimates of 0.4%.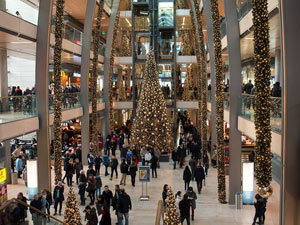 Excluding autos, retail sales growth for November was 0.5% - the best month-over-month increase since June.
Auto sales climbed 1.7% in November, the strongest showing since August. Vehicles sold at an annualized rate of 17.2 million last month, a 4.6% increase year over year, according to Autodata Corp.
Thursday's better-than-expected data is indeed welcome after Black Friday sales reports came in on the soft side.
With a few weeks remaining in the holiday shopping season, retailers could still rake in strong sales during December's remaining key shopping days. That's because of this year's holiday present to consumers: tumbling oil prices...
Lower Oil Prices Give Households $1,100
This year's steep drop in oil prices is set to give the U.S. economy a $40 billion boost this holiday season, and a multibillion-dollar lift beyond.
The average national price of gasoline is $2.66 a gallon, according to AAA, $0.61 less than last year at this time. It's fallen every day since Sept. 26 and is expected to average $2.50 through at least the first few months of 2015.
"My numbers show the average American family has gotten an $1,100 bonus effectively from the fact that we have lower prices at the pump - and could have lower still," Money Morning Chief Investment Strategist Keith Fitz-Gerald said last week when he appeared on CNBC's "Closing Bell." "I think that takes a lot of pressure off the wallet."
And that's translating to these higher holiday spending projections...