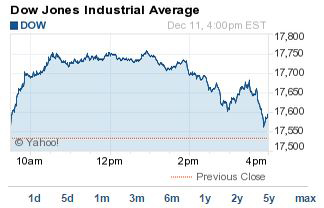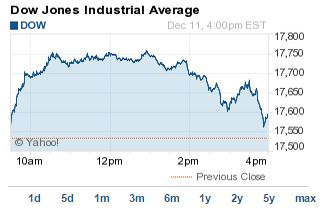 The Dow Jones broke its three-day slump Thursday, posting a gain of 63 points. The markets jumped on strong employment and retail sales data.
The S&P 500 Volatility Index (VIX), the market's fear gauge, dropped 8.36% on the day. The index had soared more than 50% in the last three trading sessions.
Today's Scorecard:
Dow: 17,596.34, +63.19, +0.36%    
S&P 500: 2,035.33, +9.19, +0.45% 
Nasdaq: 4,708.16, +24.24, +0.52% 
What Moved the Markets Today: The markets jumped on positive employment and retailer data. Jobless claims slipped to a three-week low of 294,000 Americans this morning, lower than the four-week moving average. In addition, retail sales for November hit their highest growth level in eight months.
The optimism was muted by a continued slide in the energy sector. The price of West Texas Intermediate crude slipped below $60 today, a break-even benchmark for many shale producers across the nation. This is the first time crude has been at this level since July 2009, four months after a near-total collapse of global trade.
[Extra: This chart shows which OPEC countries are reeling from the oil price slump…]
Now check out the day's most important market notes:
Retailers Rise: Shares of Urban Outfitters Inc. (Nasdaq: URBN) jumped 7.6% this afternoon, riding optimism about November retail sales growth in the economy. Other retailers received a boost from the news. Shares of Gap Inc. (NYSE: GPS) were up 1.71% on the day, while shares of Tilly's Inc. (NYSE: TLYS) added a little more than 2.3%.
Earnings Beat: Shares of Lululemon Athletica Inc. (Nasdaq: LULU) jumped 9.5% on news the yoga apparel company saw quarterly revenues jump 10% year over year. The firm reported diluted earnings of $0.42 per share, beating Wall Street estimates of $0.38.
Looking Up: During a speech in New York, U.S. Treasury Secretary Jack Lew said falling energy prices will offer a significant boost to the economy. According to reports, lower energy costs will offer relief and an artificial stimulus of roughly $1 trillion to the nation's economy. This could be a very significant boost to the economy during the holiday season, the busiest time of year for American retailers.
A Deal Coming: Shares of Staples Inc. (Nasdaq: SPLS) jumped 8.67% and Office Depot (Nasdaq: ODP) stock surged 12.12% on renewed rumors of a possible merger. The rumors came shortly after it was disclosed that activist investor Starboard Value LP holds large stakes in both office-supply retailers. According to the filings released today, the investor holds a 5.1% stake in Staples and a 10% stake in Office Depot. Starboard was a critical investor when Office Depot merged with Office Max in 2013.
Stepping Down: Shares of Walgreen Co. (NYSE: WAG) jumped more than 7% today on news its Chief Executive Officer Greg Wasson will soon retire. Wasson will step down shortly after the company completes its acquisition of Alliance Boots GmbH. This is the second major resignation of a corporate CEO this week. Abercrombie & Fitch Co. (NYSE: ANF) announced Monday that CEO Mike Jeffries abruptly stepped down.
Now our experts share some of the most important investment moves to make based on today's market trading – for Money Morning Members only:
How We'll Profit from Europe's Secret "Plan B": During the depths of the European sovereign crisis, when Greece was inches from exiting the zone, others chose to not sit idly by. Instead, two member nations were surreptitiously preparing for a possible Eurozone breakup. Even more fascinating is what came next, as it appears preparations are still in active mode. Other investors will wish they knew as much as you…
This Country's Huge "Pricing Error" Will Send These Shares Soaring: The Saudis are very frustrated about losing control over pricing power they've held for decades. It's annoying them to no end, in fact. So, they're fighting back the only way they know how to shift the balance back in their favor – by starting a price war with the United States. But Money Morning Chief Investment Strategist Keith Fitz-Gerald says they've made the biggest strategic "pricing error" in the kingdom's history. And in doing so, they've actually cleared the way for America's shale energy boom and opened up a killer opportunity for one company in particular.
One Stock That Will Profit from a New, Breakthrough Medical Direction: Modern medicine, for all of its sophisticated drugs, complex gadgets, and amazing surgical procedures, rarely cures anything. It treats. It manages. It postpones the inevitable. But return a patient to normal, optimal health? Rarely. So when an innovation comes along that can effect a complete and permanent remission of disease or restore damaged organs to a pristine state, it should cause your keenest investing instincts to perk up and pay attention…